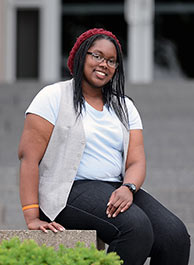 LEXINGTON, Ky.—Prostitution and sex trafficking might not be topics we expect to be the focus of a bright young college student. But Bria Parker '15 is heading to Denmark to learn about policy issues addressing those troublesome social issues, which are universal and timeless—and, unfortunately, commonly in the news.
Parker has received a prestigious Benjamin A. Gilman International Scholarship to study "Prostitution and the Sex Trade in Europe" at the Denmark Institute for International Study, beginning in January.
Gilman Scholarships, sponsored by the U.S. Department of State's Bureau of Educational and Cultural Affairs, are awarded solely to Pell Grant recipients—academic achievers with financial need. The goal of the scholarship is to diversify the candidates who study and intern abroad and to focus study in countries that are less traveled. Recipients of the grant are required to complete a service component when they return to campus, and Parker hopes to reach out to the Lexington community.
Why Denmark? A visit to Transylvania's annual Study Abroad Fair put Parker across the table from a representative of the Denmark Institute, who described its curricular offerings in sociology and gender studies. It was a eureka moment for Parker and, as Kathryn Simon, director of study abroad at Transylvania, recalls, a logical outcome of a local inspiration: "[Parker] attended the Kentucky Collegiate Leadership Conference last winter where she heard a speaker talk about prostitution and the sex trade. This piqued her interest in wanting to learn more about the topic in Denmark where there is more openness and research."
Simon alerted Parker to scholarship opportunities. The rest was up to Parker, who has successfully raised the $23,000 necessary to cover her study abroad.
For those who know Parker, a campus leader in diversity issues who hails from Franklin, Tenn., there is little surprise in her study abroad choice.  As a leader for Transylvania's Black Student Alliance and T-Unity—a group dedicated to unifying Transylvania's gay and straight communities—Parker has made a point of getting involved in fighting social injustice. "I decided I wouldn't run away from things," she explains. "At Transy you can change things on campus. You have to change it; it's not going to change itself."
Eduardo Nino-Moreno, Transylvania's former director of diversity and inclusion, says Parker's "compassion and kindness are unparalleled. So is her clarity of mind regarding issues of diversity and inclusion. Her leadership is carried out by example."
The program in Denmark also relates to Parker's long-term interest in addressing the precarious gaps in social services for teens. Homeless teens, she points out, are most vulnerable to human trafficking and often use sex to secure basic needs for survival. She is motivated to change the fact that too often "homeless youth don't fit into the standard categories of homeless programs for children, adults, and families."
Parker recalls that young-adult literature introduced her to the plight of marginal youth when she was in the third grade. At the age of 15, she was already hatching plans to become a foster parent by the time she is 27 and open a nonalcoholic bar and shelter for runaway teens.
At Transylvania, Parker has designed her own major, which will connect women's studies with sociology and "look at gender in social constructs and how social institutions contrive to make gender."
"Bria will be a great representative of Transylvania and of the U.S. while she is studying in Denmark," said Simon. "She has a wonderful sense of humor, is curious about other cultures, and is a dedicated student.  Her leadership and commitment on Transylvania's campus will transfer to her experience in Copenhagen."
Parker is the seventh Transylvania student to receive a Gilman Scholarship. A complete list of this year's recipients is available atwww.iie.org/gilman. For more information about study abroad programs at Transylvania, contact Kathy Simon at ksimon@transy.edu.