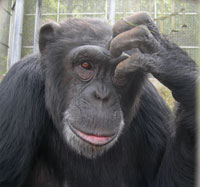 LEXINGTON, Ky.—You might think the United States has a wide variety of surpluses: fast food restaurants, ineffective politicians, talentless celebrities, overpaid athletes, insipid tweets.
But chimpanzees?
You bet, says April Truitt, executive director of the Primate Rescue Center in Nicholasville. She will give a talk titled "The Chimpanzee Paradox: Too Few in the Wild, Too Many in the U.S." at 4:30 p.m. on Thursday, Dec. 5, in Transylvania University's Cowgill Center, room 102.
Truitt will discuss what the future holds for the more than 800 captive chimpanzees in U.S. research facilities and why there are so many here. Plus, she'll address the question of who is responsible for the future care of these long-lived creatures.
The United States and the tiny African nation of Gabon are the only two countries still using chimpanzees in biomedical research. More than 100,000 non-human primates are in U.S. laboratories, whether for breeding or experimentation, according to Truitt's website. "Those apes and monkeys kept for [experiments] are subjected to everything from psychological deprivation to repeated surgeries and other invasive procedures."
Truitt's center is home to more than 50 primates, including 11 chimpanzees. Some came from research facilities, and some were pets: "Individuals pay dealers hefty fees for cute, cuddly, and easy-to-handle babies, only to find they've made a terrible mistake when their aging pets become stronger, wilder, and potentially dangerous," according to the center.
The 30-acre facility, which is funded by private donations, is meant to provide the animals a quiet and sheltered place to live. It does not offer public visiting hours. However, one Transylvania graduate, Ellen Furlong '03, had the opportunity to work at the center when she was a student at Transylvania. Furlong is currently a postdoctoral fellow in primate cognition at Yale University.
Truitt's talk is part of the university's Creative Intelligence Series, which also includes performances, art exhibitions, academic presentations, and other lecturers who have creatively solved social problems and bettered their communities.
The event is free and open to the public. Cowgill Center is on Third Street just east of Old Morrison. On-campus parking is available in the lot adjacent to the Mitchell Fine Arts Center at the corner of Fourth and Upper Streets and in several other lots along North Upper.