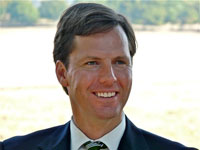 Kentucky State Auditor Adam Edelen will speak at Transylvania University on Nov. 14 as part of the Left of Center Speaker Series, sponsored by the Transylvania College Democrats. The series was founded in 2012 as a way to present a left-leaning point of view in a public setting. The lecture will begin at 7:30 p.m. in Transylvania's Cowgill Center, room 102. It is free and open to the public.
A nationally recognized public servant, Edelen was named a leader of the NewDEAL, a national network of pro-growth progressives, and received the New Leaders Council 40 Under 40 Leadership Award for entrepreneurship. He was identified as a rising star of American government by the Aspen Institute's Rodel Fellowship Program for Public Leadership, a 24-month program focused on promoting bipartisan problem-solving and public leadership. His tenure as state auditor has been notable for its high-profile audits and investigations of public officials and tax-supported organizations.
Cowgill Center is on Third Street, just east of Old Morrison. Parking is available in Old Morrison circle or in the parking lot on Fourth Street adjacent to the Mitchell Fine Arts Center. For more information, contact Donovan Sowder, president of Transylvania College Democrats, at desowder15@transy.edu or 859-559-3659.