LEXINGTON, Ky.—Music lovers, take out your calendars and start planning: Transylvania University's music program has four compelling—and contrasting—performances scheduled for the next four weeks. They're all free and open to the public, so why spend an evening without music?
Friday, Nov. 8, 7:30 p.m., Haggin Auditorium, Mitchell Fine Arts Center
Concert Band and Jazz and Percussion Ensembles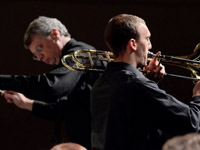 Playing for the first time together, the Concert Band and the Jazz and Percussion Ensembles might take the roof off Haggin Auditorium.
The Concert Band, under the direction of professor of music and director of instrumental ensembles Ben Hawkins, will perform music by Sousa, Alfred Reed, Robert W. Smith and Norman Dello Joio. The program includes Sousa's rousing and aptly named "On the Campus," a brisk circus march.
The Jazz Ensemble, conducted by low brass music instructor Valerie Evans, will play "Grooved Pavement" by Victor Lopez, "Now What" by Mike Kamuf and a combined piece with the Percussion Ensemble titled "Cubano Chant" by Ray Bryant.
And the Percussion Ensemble, conducted by percussion music instructor Greg Strouse, will present "Kalahari" by Steve Grimo and "Impulsion" by David Long.
Wednesday, Nov. 13, 7:30 p.m., Haggin Auditorium, Mitchell Fine Arts Center
Gabriel Fauré's "Requiem in D Minor, Op. 48"
Transylvania Chamber Orchestra and various choirs

French composer Gabriel Fauré's well-known "Requiem in D Minor, Op. 48" will be presented by the Transylvania University music program.
The performance of the gripping mass for the dead, in seven movements, will bring together the Transylvania University Choir, Women's Chorus and Pioneer Voices Men's Choir. Soloists for the performance are Transylvania voice instructor and soprano Joanna Manring and University of Kentucky doctoral student and baritone Thomas Gunter.
The Transylvania Chamber Orchestra completes the choral-orchestral ensemble, which will fill the stage with over 100 performers. The conductor, music professor Gary Anderson, describes the one-hour performance written in memory of Fauré's father as "visceral, autobiographical and highly personal. One can hear every style in which Fauré ever wrote, demonstrating his growth as a composer. It is a true homage to his father, as if to say 'Look who I grew into.'"
Wednesday, Nov. 20, 7:30 p.m., Old Morrison Chapel
Spectacular Strings Concert
Enjoy the acoustical liveliness of the Old Morrison Chapel with the Spectacular Strings Concert. Transylvania University students, under the direction of music instructors Clyde Beavers and Margaret Karp, will perform in this historic venue, located on the second (or main) floor of Transylvania's signature building, Old Morrison.
Wednesday, Dec. 4, 7:30 p.m., Haggin Auditorium, Mitchell Fine Arts Center
A Gift of Holiday Music Concert
Transylvania University fine arts and crafts sale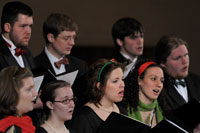 Ring in the season with A Gift of Holiday Music Concert, a local favorite featuring the Transylvania Band, the Transylvania Chamber Orchestra, the Transylvania University Choir, Women's Chorus and Pioneer Voices Men's Choir. Offering beloved secular and sacred melodies, each group will perform a short set and then appear together for a single song.
The Chamber Orchestra, under the direction of professor Ben Hawkins, will present Prokofiev's "Troika," which Hawkins describes with a smile as "music everyone knows, but not usually by name." The combined band and orchestra will play Leroy Anderson's classic "Sleigh Ride."
Blanketing the concert hall with what music professor Gary Anderson describes as "a glorious acoustical overlay," the Transylvania University Choir will present Michael Praetorius' 17th-century classic "Det Ar Ros Utsprungen" (A Rose Has Sprung Up). Reinterpreted by contemporary Swedish composer Jan Sandstrom, the choral arrangement provides a stunning new take on a traditional favorite.
Intermittently during the 60-minute concert, audience members join in for an old-fashioned sing-along, which makes this an especially popular community and campus event. The holiday concert is free, although canned good donations are gratefully accepted at the door for distribution to God's Pantry Food Bank.
Holiday concert-goers may want to stop by the Morlan Gallery, located down the hall from Haggin Auditorium, before the concert to do a little holiday shopping. Transylvania University faculty, staff and students will host their second annual fine arts and crafts sale featuring a variety of handmade goods including jewelry, ceramics, paper goods, knit wear, books and more. The sale starts at noon and ends at 7:15 p.m.
---
All events are free, open to the public and handicap accessible. Parking is available in the Mitchell Fine Arts parking lot adjacent to the building on Fourth Street. For more information, please call Gretchen Shoot, fine arts administrative assistant, at 859-233-8141 weekdays between 8 a.m. and 4:30 p.m.