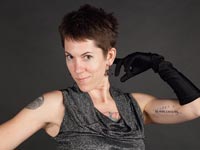 LEXINGTON, Ky.—The Lexington Tattoo Project brought together a diverse community: grandmothers, parents, tattoo aficionados, tattoo newbies, bikers, poets. On Friday, Nov. 15, the tattoo designs themselves will be brought together to reveal a hidden image—inked on a well-known Lexingtonian.
Just who that is will remain a mystery until he or she pulls up to the unveiling party at Buster's Billiards & Backroom on Manchester Street that night…in a Ferrari.
The project was dreamed up by Transylvania professors Kurt Gohde and Kremena Todorova, a creative team that engages the community in unusual ways.
For this work, a word or words from Transylvania alumna Bianca Spriggs' poem "The __________ of the Universe: A Love Story" was tattooed on 252 people who call Lexington home.
The privately funded project garnered a surprising amount of attention earlier this year, including a CNN feature. "It became much bigger, much faster than what we had anticipated," Todorova said.
Like a sailor's "Mom" tattoo, this skin art is a mark of affection. "We asked Bianca to write the poem as a love letter to Lexington," explained Todorova. And the stories of those who volunteered to get tattooed—whether Lexington natives or newcomers—without fail reference a fondness for the city, in all its beauty and its shortcomings.
Many of the poem's words and phrases came from responses gathered from Facebook and Twitter requests to fill in the blank of the poem's title. Phrases include "Candy Heart," "Underrated Wine," "Roadside Attraction" and "Armpit."
"We all wrote this poem together," said Spriggs.
The 496-word piece also is about what it's like to wander around Lexington in the middle of the night in love. The structure is contrapuntal, meaning each of its two columns constitute a separate poem, and they can be read together to form a third one.
For the tattoos—inked at Charmed Life Tattoo—the poem was divided into phrases from one to five words long and adorned with small circles. It's these circles that, when put together, will reveal the hidden image in the form of a single tattoo.
In addition to the image reveal, the Nov. 15 party will include performers such as the March Madness Marching Band and a circus sideshow act, as well as a video featuring Spriggs reading her poem and an original composition by acclaimed musical artist Ben Sollee. The doors will open at 8 p.m. and performances will begin at 8:30.
While local at heart, the project has spread beyond Lexington. Todorova and Gohde have been heavily involved with The Boulder Tattoo Project, which they inspired. There also is interest in similar projects in Cincinnati and Miami.
The artists hope the projects encourage partnerships between the cities. To that end, Lexington Mayor Jim Gray wrote a letter to Boulder in support of the project, which he feels builds civic pride.
According to Gray, "The Lexington Tattoo Project has made Lexington a better place to live and positioned our city as a community that welcomes creative public art. This project and others like it invariably have a positive economic impact and, just as important, draw attention to Lexington as a thriving city where good things are happening."
The Miami-based John S. and James L. Knight Foundation donated $20,000 to start the Boulder project and $10,000 toward a full-color, hardcover book to commemorate the original tattoo project in Lexington.
The projects help create what Gohde calls "placemaking." Gohde, who taught Spriggs at Transylvania, said the projects not only increase local residents' pride and commitment to their city, but they also convey that feeling to a wider arena, thus establishing a different sensibility about the city.
Tanzi Merritt '96, who participated in the Lexington project, has lived here most of her life and was moved by the community spirit. "I rarely see that happen with anything other than University of Kentucky basketball," she said.
For more information about the Lexington Tattoo Project, visit the website at http://lexingtontattooproject.wordpress.com or contact Todorova at ktodorova@transy.edu or 859-948-3433.