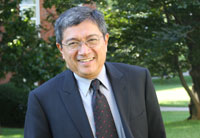 LEXINGTON, Ky.—The Board of Directors of The Henry Clay Center for Statesmanship has named Eduardo Nino-Moreno as the center's new executive director.
The center, a partnership between Transylvania University, the University of Kentucky and the center's board, strives to honor the legacy of Henry Clay by promoting compromise as a means of solving our nation's problems. The flagship program of the center, the Student Congress, invites rising high school seniors to the Transylvania campus each summer for a week-long program of activities where they learn about diplomacy, negotiation and conflict resolution.
Nino-Moreno brings a wealth of experience to the position, having served around the world as a senior United Nations official for three decades. In that role, he had first-hand experience facilitating dialogue and developing consensus to avoid serious national confrontations. Nino-Moreno has a bachelor's degree from Dartmouth College and a master's degree from Cornell University.
Prior to his appointment, Nino-Moreno was Transylvania's director of campus diversity and inclusion.
"I am thrilled to accept the challenge of leading the Henry Clay Center for Statesmanship," said Nino-Moreno. "It is crucial for new generations of students to become acquainted with the rich legacy of one of Kentucky's most illustrious sons who showed that compromise is an effective tool for strong leadership."
The executive director is responsible for establishing the strategy for the center and overseeing the center's programming, including the annual Student Congress.
For more information about the Henry Clay Center for Statesmanship, contact Nino-Moreno at 859-233-8777 or enino@transy.edu.