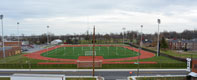 LEXINGTON, Ky.—Collaboration. According to Lexington Mayor Jim Gray, that's what made it happen.
Connections. That's what Urban County Council member Chris Ford wants the improvements to create.
Transformation. And that's what Bluegrass Community and Technical College President Augusta Julian expects for the surrounding neighborhood.
It may have seemed like just another annoying road project to some who traveled it, creating the usual traffic snarls and inconvenient detours, but those who live in the area know differently. The Fourth Street improvements may truly transform the neighborhood.
Several local dignitaries gathered last week at BCTC's Newtown campus to celebrate the completion of the Fourth Street road project as well as a number of other important construction projects in the area, including Transylvania's Athletics Complex. The newly reconfigured Fourth Street—which is now two-way between Newtown Pike and Jefferson Street, with freshly painted bike lanes, inviting sidewalks, and improved lighting—is indeed a critical connection between the residents of north Lexington and the downtown area and between the campuses of Transylvania University and BCTC.
Said Ford, "The project is truly about mobility and connectivity."
The collaboration required to make the project a reality was the first indication of the connections this project could forge. It took a cooperative approach among multiple parties to envision the Fourth Street improvements and sustain the momentum for their completion: District 7 of the Kentucky Transportation Cabinet, Lexington-Fayette Urban County Government, R.J. Corman Railroad Group, Transylvania University, and BCTC.
Julian explained that the improved access to the area means improved access to higher education. And she sees new possibilities for the two institutions of learning: "We look forward to a more connected relationship with Transylvania."
Marc Mathews, Transylvania's vice president for finance and business, noted the pedestrians he had seen in a usually deserted area. And he likes what that heralds. "Our investment is bringing life into this part of downtown Lexington."
Transylvania will complete the field house at the Fourth Street Athletics Complex in January, and BCTC will continue revitalizing the site of the old Eastern State Hospital for several years to come. Businesses regularly pop up along the Jefferson Street corridor. All of these investments encourage others to take a look at the area for future projects.
Gray aptly summarized the success of the project: "It's a public/private partnership that works and that represents progress in all its many dimensions."