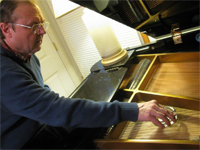 LEXINGTON, Ky.—All musical palates are sure to be satisfied at Transylvania University's Composers' Concert Wednesday, Nov. 6, as music professors Tim Polashek and Larry Barnes serve up a savory menu of diverse original compositions. The concert will be in Carrick Theater of the Mitchell Fine Arts Center at 7:30 p.m. and is free and open to the public.
The program includes world music, specifically Chinese, Indonesian and Islamic; solo Irish arrangements; and jazz-influenced modern classical music. The instrumentation is wide-ranging, too—piano, flute, guitar, cello…and an ashtray.
Barnes will present four compositions, one of which is "Wanderer Fantasy: Hibernia" for piano, played by Barnes.  "Hibernia," the Latin name for Ireland, is part of "Preludes from Pangaea," composed for and premiered by Louisville pianist Denine LeBlanc in 2012. The piece explores elements of music cultures outside the Euro-centric tradition, an outgrowth of Barnes' pedagogical work.
Other compositions by Barnes include "Minarets" for guitar trio, a piece influenced by Middle-Eastern chant; "Cloud-Hidden," a composition that borrows from ancient Chinese philosophy; and "The River of Heaven," a lyrical, virtuosic vehicle for cello with the pianist playing the piano's strings with a glass ashtray.
Polashek will present "Sonata for Alto Saxophone and Piano" and "Evening Psalm," both originally composed for his brother, jazz saxophonist Matthew Polashek, and Eric Huebner, a New York Philharmonic pianist.
The performance of "Evening Psalm," written in 2005, has strong emotional overtones for Polashek. His brother was in a tragic car accident this summer and lost his wife. "Matt's now learning to walk again, caring for their infant and trying to rebuild his life," Polashek says, "It seems appropriate for me to program these works, as I am constantly thinking about him. In fact, 'Evening Psalm' was conceived and titled as a prayer, and I dedicate this performance to my brother and the memory of his wife."
Performers at the concert will include Transylvania University adjunct music instructors Clyde Beavers on cello, Doug Drewek on saxophone, Merrilee Elliott on flute, and Victoria Tsangari on piano. The Eastern Kentucky University Guitar Trio I—Luke Jackson, Cody Lester and Hunter Wingate—will open the evening with "Incantation" by Barnes.
Larry Barnes, a prolific composer, has had his work featured in worldwide contemporary music programs. His composition "Toccata: Act of War" for piano was selected for a 2007 commercial recording by the Society of Composers on Capstone Records and for a 2011 webcast by Princeton Public Radio in honor of the tenth anniversary of the 9/11 attacks. In 2008 Barnes provided a complete original score for "Euphoria," which took the Gold Award for Documentary at the Houston Film Festival.
Timothy Polashek, whose compositions have also been performed internationally, writes in a variety of media and styles, including vocal, instrumental, electro-acoustic, text/sound and interactive performance systems. His research in audio synthesis and text/sound music has been published in multiple journals, and his music is referenced in "The Oxford History of Western Music." He is the founder and director of Studio 300, Kentucky's only digital arts and music festival, an internationally recognized event hosted by Transylvania.
Both Barnes and Polashek recently had music featured in the critically important Society of Composer's Festival at Eastern Kentucky University. Only the top 15 percent of music submissions were selected by a peer-reviewed jury for inclusion during the regional three-day event.
The Composer's Concert will last about 70 minutes; there will be no intermission. The Carrick Theater is handicap accessible, and parking is available in the Mitchell Fine Arts parking lot adjacent to the building. For more information, please call Gretchen Shoot, fine arts administrative assistant, at 859-233-8141 weekdays between 8 a.m. and 4 p.m.