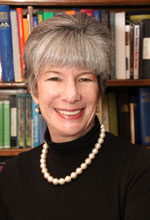 LEXINGTON, Ky.—One does not expect to find a Yankee Jewish scholar teaching the New Testament in the Bible Belt.
But that is exactly what Amy-Jill Levine does. The decidedly unorthodox scholar will visit Transylvania University on Tuesday, Nov. 12, to give a lecture titled "How Jews and Christians Read Scripture Differently." The event is free and open to the public.
Levine is University Professor of New Testament and Jewish Studies at Vanderbilt Divinity School and College of Arts and Sciences and an affiliated professor with the Centre for the Study of Jewish-Christian Relations in Cambridge, England.
"Professor Levine is probably the premier scholar on Jesus today," Transylvania religion professor Paul Jones said. "Her religious tradition, intellectual acumen, and insightful sensibilities allow her to illuminate the text or the subject she's working with in ways that are unparalleled."
The talk, which is part of the Franklin B. Moosnick Lectureship in Judaic Studies, will be at 7 p.m. in Transylvania's Carrick Theater. Levine will also give a lecture titled "Hearing Jesus' Parables as Jewish Stories" at 7 p.m. Wednesday, Nov. 13, at Temple Adath Israel in Lexington.
"Professor Levine combines historical-critical rigor, literary-critical sensitivity, and a frequent dash of humor with a commitment to eliminating anti-Jewish, sexist, and homophobic theologies," according to her online biography. Read more about her in this New York Times article.
Levine earned a B.A. from Smith College, an M.A. and Ph.D. from Duke University, and honorary doctorates from Christian Theological Seminary, Drury University, the University of Richmond, the Episcopal Theological Seminary of the Southwest and the University of South Carolina-Upstate.
Her most recent books include The Meaning of the Bible: What the Jewish Scriptures and the Christian Old Testament Can Teach Us (co-authored with Douglas Knight), The Jewish Annotated New Testament (co-edited with Marc Z. Brettler) and The New Testament: Methods and Meanings (co-authored with Warren Carter).