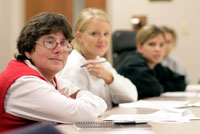 Central Kentucky residents looking for an affordable way to continue their educations might find the Transylvania University campus a great place to start.
Throughout the academic year, the university's Creative Intelligence Series offers lectures, art exhibitions, performances, presentations by young academics whose work has had an exceptional influence on their disciplines, and lectures by individuals who have applied their creativity to solving social problems and enriching their communities.
All events are free and open to the public.
The events offer a broad representation of creative work across a wide variety of disciplines. Local residents can invest an hour at a time once or twice a month and possibly discover a new interest or an opportunity for further research or social action.
It's a simple way to get a feel for the type of education endorsed by Transylvania and other similar colleges: A liberal arts education encourages you to draw connections between disparate fields of study, examine new ideas and concepts, and challenge underlying assumptions.
Meg Upchurch, Transylvania professor of psychology and coordinator of the Creative Intelligence Series, explains: "Presenters are asked to talk about the process of their work, not just the products of it. One goal of the series is to help students become aware that creative, engaged problem solving can occur in a variety of disciplines and contexts. The series also seeks to bring diverse viewpoints and activities to campus."
The Creative Intelligence Series had its genesis three years ago when President R. Owen Williams sought to establish a speaker series on campus. The committee charged with defining the series embraced the idea of focusing on creativity, in all its aspects. In addition to sponsoring events of its own, the Creative Intelligence Series also provides support to other campus activities, such as the Studio 300 Digital Art and Music Festival, an international event that took place on Transylvania's campus Oct. 4-5, and Still Overcoming, the year-long celebration of the 50th anniversary of Transylvania's desegregation.
In upcoming weeks, community members can choose from a variety of events:
Monday, Oct. 21, 7:30 p.m., William T. Young Campus Center
Artist and activist Robert Shetterly will present "The Doctrine of Discovery, Manifest Destiny, Truth, and Democracy."  Eight portraits from his series "Americans Who Tell the Truth: Voices for Civil Rights" are on display in the Campus Center through Oct. 22. There will be a book signing and reception immediately following Shetterly's lecture.
Thursday, Oct. 24, 4:30 p.m., Cowgill 102
Aaron Rundus, assistant professor of psychology at West Chester University, will present "The Hidden World Around Us: Multimodal Animal Communication." Rundus uses biorobotics to investigate how animal predators and their prey communicate with each other.
Thursday, Nov. 7, 7 p.m., William T. Young Campus Center
After screening her documentary, "Anne Braden: Southern Patriot," filmmaker Mimi Pickering will talk about the process of capturing the courage and conviction of one of Kentucky's most influential civil rights workers on film.
Wednesday, Nov. 13, 4:30 pm, Cowgill 102
Colene Elridge '05 will discuss the importance of moving beyond fear and being authentic in our interactions with others in her presentation "The Business of Being You."
Thursday, Dec. 5, 4:30 p.m., Cowgill 102
April Truitt, executive director of the Primate Rescue Center in Nicholasville, Ky., will present "The Chimpanzee Paradox: Too Few in the Wild, Too Many in the U.S."
For information about similar events on Transylvania's campus, view the university's public events calendar. For information about visiting campus, view parking and campus maps. For more information about the Creative Intelligence Series, contact Upchurch at mupchurch@transy.edu or 859-233-8252.