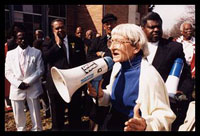 LEXINGTON, Ky.—In 1954, Anne Braden, a white Louisville journalist from an established family, helped an African American couple purchase a home in a white suburb. Soon thereafter she was charged with sedition against the state of Kentucky and discredited as a "Red" in newspaper headlines.
Thirty-five years later, Braden was awarded the first Roger Baldwin Medal of Liberty from the American Civil Liberties Union as a "lifelong leader of the movements for racial justice, labor rights, and peace in the South."
In those intervening years, Braden distinguished herself as one of the most courageous, committed activists in the civil rights era. She and her husband endured time in jail and separations from their children, but they refused to be silenced. Braden became a model for young white women who wanted to join the movement and mentored three generations of social justice activists.
Appalshop filmmakers Anne Lewis and Mimi Pickering used interviews and archived film footage to share the tale of how Braden, sometimes by the sheer force of her personality, helped foment societal changes that slowly improved conditions for minorities.
"Anne Braden: Southern Patriot" will be shown in Transylvania's William T. Young Campus Center Thursday, Nov. 7, at 7 p.m. Afterward, Pickering will lead a discussion of the film. The event is sponsored by Transylvania's Creative Intelligence Series and is free and open to the public.
Pickering is an award-winning filmmaker and director of Appalshop's Community Media Initiative. According to Appalshop, her documentaries typically "focus on injustice and inequity and explore the efforts of grassroots people to address community problems that frequently reflect global issues."
"This film screening and discussion give us the opportunity to celebrate the accomplishments of two outstanding Kentucky women," said Meg Upchurch, Transylvania professor of psychology and coordinator of the Creative Intelligence Series. "As we consider this state's complex civil rights history, we can be proud of the work Braden did and the work Pickering continues to do to achieve justice for all members of society."
Each year, Transylvania awards the Braden Prize to a student of women's studies who has demonstrated substantive contributions to the field through both scholarship and activism on behalf of women.
The film screening is part of Transylvania's year-long celebration of the desegregation of its campus, Still Overcoming. For more information about the event, contact Upchurch at mupchurch@transy.edu or 859-233-8252.