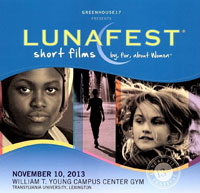 LEXINGTON, Ky.—Nine short films by, for and about women. An opportunity to celebrate the courage and resiliency of women, as well as the talent, insightfulness and sense of humor of the filmmakers.
That's what the LUNAFEST film festival will bring to Lexington, and Transylvania is pleased to host the encore performance on Sunday, Nov. 10, at 2 p.m. in the William T. Young Campus Center.  A discussion will follow, led by Sarah Jane Sanders, an editorial photographer and blogger based in Lexington. Learn more about the nine films at www.lunafest.org.
The festival was established in 2000 by LUNA, the makers of the Whole Nutrition Bar for Women. Two nonprofits dedicated to helping women will benefit from the festival proceeds: GreenHouse17, which supports those affected by domestic partner abuse (formerly the Bluegrass Domestic Violence Program) and the national Breast Cancer Fund.
Tickets are $15 for the general public and $5 for students. The Kentucky Theatre will present the first local screening of the films on Thursday, Nov. 7, at 6:30 p.m.
Ashley Gutshall, Transylvania's assistant director of residence life and coordinator for interpersonal violence prevention, explains why Transylvania chose to host the film festival: "Statistics from the National Domestic Violence Hotline indicate that 12 million men and women in the United States will be affected each year by intimate partner violence. Partnering with GreenHouse17 and having events like these on campus is vital to raising awareness about ending violence in our community."
The event at Transylvania is sponsored by the university's Office of Community Service and Civic Engagement. Coordinator Karen Anderson said, "I'm thrilled to partner with LUNAFEST Lexington as the encore viewing location. LUNAFEST supports independent filmmakers and local nonprofits and presents topics that generate meaningful conversation."
For more information, contact Anderson at kanderson@transy.edu or 859-233-8182. Tickets are available at http://lunafestlexington.eventbrite.com/ and at the door.