LEXINGTON Ky.—Transylvania University has transformed the site of an old tobacco warehouse into a $10 million athletics facility that will benefit not only the school but also the entire community.
Join us Saturday, Oct. 19, to celebrate the opening of the new field at the 555 West Fourth Street facility. Opening day events will include an introduction of sports teams and words from President R. Owen Williams around 3 p.m. and games, music and face painting. A full day of sports will kick off at 1 p.m. with a women's soccer game.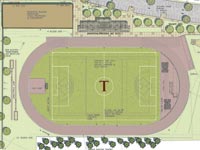 The field will be home to the university's soccer, lacrosse, field hockey and track and field teams. A grandstand that seats more than 800 spectators will overlook an eight-lane track and artificial turf field lighted for nighttime intercollegiate competition.
The field is part of the Athletics Complex, which will include a field house with locker and conference rooms, office space, a sports medicine facility, concessions, a ticket booth and public restrooms. The field house is expected to be open in early January.
"We're absolutely excited," Athletics Director Holly K. Sheilley said of the project. "It's a state-of-the-art facility that I think the community and the university can be very proud of."
The public is invited to come out and cheer on our Pioneers and attend the opening ceremonies.
With this project, Transylvania is helping revitalize this area of downtown. The site is near the future campus of Bluegrass Community and Technical College as well as new restaurants and entertainment venues. Workers are busy converting West Fourth Street into two-way lanes and installing sidewalks on both sides of the road on the way to the complex, which is in walking distance of the university. "It's going to be a nice area," Sheilley said.
The university's expansion will free up room at existing campus facilities and give more space to intramurals and groups like the Quidditch team.
Also, even before opening day, the Athletics Complex has been a draw for potential students. "It's been a huge wow factor for recruitment," Sheilley said. "I think that it will definitely continue to attract the type of students and athletes that we want here at Transylvania."
For more information, contact Athletics Director Holly K. Sheilley at 859-233-8548 or hsheilley@transy.edu.