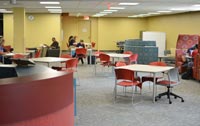 LEXINGTON, Ky.—Transylvania University has recently invested $350,000 in its library to turn a basement space that was previously home to periodical stacks into a contemporary, comfortable, modular space dedicated to tutoring, academic services, technology tools and student collaboration and group projects.
The Academic Center for Excellence (ACE) provides a wide variety of services. Space has been designated for math and science tutoring, a satellite classroom for the university's Writing Center, the Technology Learning Center, and the Learning Skills Program, which offers instruction in time management and studying and reading techniques, among other topics. The library also will staff a help desk for students in the evenings.
In addition, ACE provides video equipment so students can record and play back presentations or practice interviews. It also features collaboration technology that allows up to four students to plug in tablets or laptops and view content from the devices on a large monitor.
To further encourage teamwork, there is space for group discussion and rooms with video conferencing capability to connect students to others around the world. Additionally, the furniture is easily movable and can be combined in creative ways.
"The goal of this is to bring together the academic support services that we have on campus," library director Susan Brown said. "By working together we make each other stronger, and by making each other stronger, we make our students stronger."
With the creation of ACE, the university also will expand the range of drop-in tutoring sessions to include subjects such as Spanish, psychology and accounting. Other areas that aren't as high-need will be available through appointment.
For students, ACE is a cool space with cool toys. "This will help them succeed at Transylvania," Brown said.
For more information, contact Brown at subrown@transy.edu or 859-246-5008.