LEXINGTON, Ky.—The American Spiritual Ensemble, founded and directed by University of Kentucky professor Everett McCorvey, will perform at Transylvania University Sept. 22 at 3 p.m. in Haggin Auditorium of the Mitchell Fine Arts Center. The concert is free and open to the public.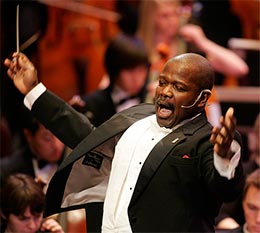 The ensemble, which includes celebrated vocalists from across the U.S., performs a varied repertoire, from Negro spirituals to classical works to Broadway tunes. Its members have sung in theaters and opera houses around the world, including the Metropolitan Opera, New York City Opera, Houston Grand Opera, and abroad in Italy, Germany, Britain, Scotland, Spain and Japan.
The ensemble's performance at Transylvania is part of Still Overcoming: Striving for Inclusiveness, the university's year-long celebration of 50 years of desegregation on campus and acknowledgment of the strides the university and society at large have yet to make.
McCorvey, the director of UK's Opera Theatre, returned to his alma mater, the University of Alabama, in June for the 50-year commemoration of its desegregation. In an article that appeared in the Lexington Herald-Leader on June 30, 2013, McCorvey wrote:
"Today in Tuscaloosa, and in many universities around the United States, we celebrate the success of education for all and the strides that we have made as a country in breaking the hold of segregation and providing access to all who desire it.
"While acknowledging the complicated road ahead, we can still point to amazing progress since Kennedy's address to the nation the evening of [Gov. George] Wallace's stand…
"Separate but equal could not stand, and opportunities for all were — and must continue to be — the battle cry of the future."
Transylvania welcomes all who are interested in an ongoing discussion of our current and historic race relations to join us for this event and others scheduled throughout the academic year. For a complete schedule, go to https://www.transy.edu/diversity/still_overcoming_schedule.htm.