LEXINGTON, Ky—Nationally known alt-folk rocker and 2000 Transylvania University graduate Mark Heidinger returns to campus Thursday, Sept. 19, for a free concert and lecture.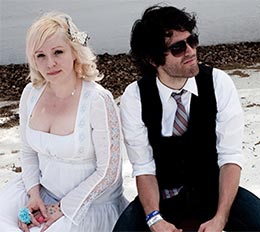 Heidinger performs under the name Vandaveer with a cycling cast of band members, the latest being co-vocalist Rose Guerin, whose voice has been compared to Emmylou Harris'. Currently on a national tour, the duo will perform murder ballads from the CD Oh, Willie, Please.
Last year, the web-based 78 Project asked Heidinger to select public domain songs and record them with a single microphone and a 1930s Presto direct-to-acetate disk recorder. Originally the plan was to record the well-known murder ballad "Pretty Polly." Although the band ended up covering another ballad, Heidinger was attracted by the "darker side of the human condition" and went on to record 11 murder ballads for this new release.
Reflecting on his time as an English major at Transylvania, Heidinger says, "I began to learn how to read and think critically, as an adult. You apply that to your artistic trade almost inherently at that point. You become a chief and strident critic of your own writing. Beyond exposing me to important writers and great writing, the English department taught me how to think."
Transylvania art professor Kurt Gohde created the album artwork for Vandaveer's 2007 release Grace and Speed.
Heidinger will talk about the formation of the band and sources of inspiration for Oh, Willie Please during a lecture Thursday, Sept. 19, at 4:30 p.m. in Transylvania's Cowgill Center, room 102. The lecture is free and open to the public.
Also on Thursday, Vandaveer performs at 8 p.m. in Transylvania's Lucille C. Little Theater. This event is for Transylvania students with valid IDs; tickets are not required, but early arrival is recommended. If extra seats are available prior to curtain the general public will be admitted free of charge.
These events are part of Transylvania's Creative Intelligence Lecture Series, which celebrates the activities of people working at the leading edge of their fields. The name of the series comes from the notion that intelligence takes a variety of formats and that creativity can be found in the work of artists, scholars, community activists, and others who look at the world in fresh ways. See Transylvania's calendar for upcoming Creative Intelligence lectures.
Vandaveer is playing CRAVE Lexington, a free local food and music festival on Sunday, Sept. 22, at 4:45 p.m. in the MoonDance Amphitheater at Beaumont Circle located at 1152 Monarch Street.