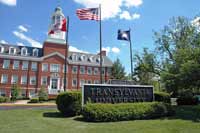 LEXINGTON, Ky.—Transylvania University's pioneering August term is poised to introduce first-year students to the academic rigor of a liberal arts college. The Class of 2017 will arrive on campus on August 9—three weeks before upperclassmen—to learn what it will take to excel at Transylvania.
Although Transylvania's unusual August term includes elements of the typical college orientation—a multitude of social activities for the class of 2017 to get to know each other and bond as a group, educational programming related to making responsible choices as an independent adult and community service opportunities—it also incorporates a rigorous classroom experience: the First Engagements seminar.
Classes of approximately 14 students meet daily with a faculty member to discuss two texts and become acquainted with the type of critical thinking and discussions that will be expected as part of their college academic experience. Participating faculty come from all academic areas, and students in different sections of the class may be exposed to widely varying perspectives on the First Engagements theme.
This year's theme is "Reading the World," which captures two goals of a liberal arts education: learning to read critically and exploring the wider world. Over the summer, the first-year students read "the curious incident of the dog in the night-time" by Mark Haddon, which will provide the jumping off point for initial discussions. Once on campus, students will also read "Descartes' Bones: A Skeletal History of the Conflict Between Faith and Reason" by Russell Shorto.
"Last year students came out of the First Engagements seminar ready to be active participants in class discussions in their fall courses from day one," said John Svarlien, classics professor and faculty director for August term. "The seminar gave them an academic edge: they were able to begin engaging with the sort of challenging issues and questions that they will be exploring at Transylvania in the next four years."
First-year students continue their introduction to college-level academic expectations during the fall and winter terms, when they take the First-Year Seminar and the First-Year Research Seminar. These courses, centered on a variety of multidisciplinary topics proposed by individual faculty members, encourage rigorous discussion of issues, help students become more effective writers and teach students the research skills necessary to produce well-informed and original scholarship. The skills they develop in these classes will help them succeed in all their other college classes.
"The courses segue seamlessly from one to the next," explains Martha Billips, professor of English and associate dean of the college for first-year academic programs and advising. "The integrated nature of our first-year academic curriculum really makes it stand out."
Faculty also devote considerable energy to advising the first-year students. "In addition to classroom and co-curricular experiences, August term also allows incoming students to develop a close relationship with their initial academic advisor: their August term instructor," said Billips. "Last year's August term experience suggests that this close advisor/advisee relationship helped incoming students make the transition to college life smoothly and successfully."
During August term, students also meet with "August term scholars"—Transylvania juniors and seniors who serve as mentors both in and out of class. The August term scholars have worked in tandem with the faculty to develop the individual seminars. They also work with the faculty to help advise the students as they register for classes.
As Svarlien explains, "August term gives faculty and August term scholars the freedom to experiment with different ways of imagining a seminar. The August term scholars, in turn, have the chance to be real partners with the faculty in planning and leading the seminar.
"Last year's August term was, I think, a big success," said Svarlien. "New students developed a strong sense of identity with their classmates and gained confidence in their ability to transition from high school to college."
After the first August term, Transylvania faculty and staff, including Michael Covert, associate vice president for retention and associate dean of students who serves as the administrative director for August term, held an open forum for the students to assess their experience. The program directors have since modified the August term schedule to better address the students' needs during this critical adjustment period.
"We learned a lot from the inaugural year," said Svarlien. "August term by its nature is intense and ambitious. We all felt that we over-programmed last year. In planning for this year, we are aiming at achieving a better balance of the academic and the social, of structure and flexibility. We have a rich calendar of academic and extracurricular events, with more choices for both faculty and students. Two examples: Greg Partain, professor of music, will be giving two piano recitals and talking about music as a text to be read by the performer and the audience; and Iain Haley Pollock, winner of the 2010 Cave Canem Poetry Prize, will give a poetry reading during the first week."
Transylvania's August term begins August 9 and closes August 29. Fall term classes for all students begin September 3.
Transylvania, founded in 1780, is the nation's sixteenth oldest institution of higher learning and is consistently ranked in national publications as one of the top liberal arts colleges in the country.