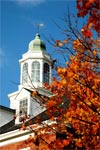 LEXINGTON, Ky.—Transylvania University has bolstered enrollment by reaching out to diverse populations—from its own backyard to across the globe.
This year's incoming class not only is the most racially and ethnically diverse in school history—by far—but it's also the most international ever.
Traveling here from countries as far flung as China, Peru, Iraq and England, the 20 new students from abroad represent a 900 percent spike in the past five years.
Also, about 20 percent of first-year students identify themselves as a member of a racial or ethnic minority group. This is 26 percent more than in last year's incoming class, which was the most diverse until now.
The total number of new students—305 so far—is an average size compared to the past four years. Transylvania's overall enrollment for the fall term is expected to be 1,075, the largest in the past three years.
In addition to maintaining the size of the class, having a more diverse student body strengthens the teaching and learning environment.
"We've been very intentional about trying to increase the population of students of color," said Brad Goan, vice president for enrollment and dean of admissions. This includes initiatives such as campus visits through the Trailblazers Scholarship program and outreach to community organizations that serve underrepresented students.
Much of the diversity increase comes from a gain in Hispanic students—21 this year—which bodes well for the future because it's a growing demographic.
Additionally, the university's strategic enrollment plan aims to internationalize the student body. Ten students in the incoming class are from China, where Ingrid Allen, associate director of admissions, and senior Kaiyu Zhang traveled earlier this year as part of the Sister Cities Young Scholars program.
Transylvania also is building a relationship with students in Panama through a partnership with the Balboa Academy.
The redoubling of out-of-state recruitment efforts comes at a time when the number of students graduating from Kentucky high schools is declining. Almost 30 percent of Transylvania's class of 2017 is from outside the state, which makes it one of the most geographically diverse in the past 40 years. These students hail from 19 states including California, Washington, Wisconsin and Texas.
The new class also is tied with last year's as the most academically talented in school history, with an average ACT score of 27 and an average high school GPA of 3.69. Also, men compose 49 percent of the class, making it the most gender-balanced in 30 years.
First-year students will arrive on campus Aug. 9 for a three-week innovative August term, and fall term classes for all students begin Sept. 3.
Influencing the shape of these incoming classes, a sophisticated marketing model matches opportunities at the university with individual students and families and targets messages based on biographical and demographic information.
Transylvania admissions counselors also promote the message that college in general, and a liberal arts education specifically, is a wise investment. "The biggest thing is convincing students and parents that college is worth it," Goan said. "Every bit of statistical information still suggests that the college experience has value."
As for liberal arts degrees, they are in demand because employers want workers who can communicate well, deal with change, navigate ambiguity, and analyze and synthesize information. "Those are things that a liberal arts degree prepares students for better than any other training," Goan said.