LEXINGTON, Ky.—The National Science Foundation has awarded $593,869 to Transylvania University to attract and retain science and math students over the next five years. The largest portion of the grant—$520,000—will be applied to scholarships for deserving students from across the U.S.
"Prospective students and their families have long recognized Transylvania's excellence in math and science," said Brad Goan, vice president for enrollment and dean of admissions. "The STEM Scholars Program builds on that outstanding tradition and provides even more opportunity here for talented and motivated students."
The focus on STEM (science, technology, engineering, and mathematics) disciplines as part of an interdisciplinary education has recently gained widespread attention as a way to prepare students for a variety of twenty-first century careers. Transylvania professors Eva Csuhai (chemistry), George Kaufman (chemistry), Sarah Bray (biology), and Mike LeVan (mathematics) will manage the program. Application details are not yet in place. 
In addition to scholarship opportunities, the grant will fund guest lecturers who can talk to students about careers in science and math and present workshops on such topics as study habits and conducting research. A portion of the money is also designated for summer research to help prepare students for competitive opportunities outside Transylvania.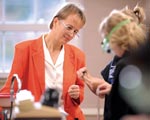 "The main focus of the grant is to give scholarships to bright students who have a serious interest in science and math," said Csuhai. "We want them to spend less energy worrying about financial issues and more energy on their studies." 
The goal is also to reduce attrition among students who initially indicate an interest in majoring in math or science. Once enrolled, STEM Scholars will receive academic support to ensure they remain successful in their course work and are able to graduate with a major in a STEM area. Students will be encouraged to pursue post-graduate degrees.
"This grant will help Transylvania send even more students to highly acclaimed graduate programs across the country," said Transylvania President R. Owen Williams. "Our STEM Scholars will be fully prepared to contribute to businesses and industries driven by critical thinking and creativity."