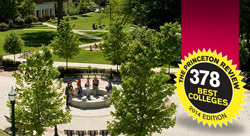 LEXINGTON, Ky.—Transylvania University is listed in The Princeton Review's "The Best 378 Colleges," a ranking that includes the top 15 percent of America's 2,500 four-year colleges.
"Transylvania University offers outstanding academics, which is the primary criteria for our choice of schools for the book," said Robert Franek, Princeton Review's senior vice president and author of "The Best 378 Colleges."
The book's two-page profile of Transylvania includes comments from students surveyed for the book. Students described Transylvania as an "extremely close-knit campus" with a "strong sense of community." They said that Transylvania strives to provide "a holistic educational experience where one can grow intellectually and academically while participating in a vibrant social community."
Other students said that they work "ridiculously hard," but that the professors let you stop by during their office hours and discuss just about anything. One Spanish and English double major affirmed, "It doesn't matter whether a class is lecture or discussion based, because either way you're guaranteed to learn something."
The schools' evaluations are based on institutional data, feedback from current students, visits to the schools, opinions of independent college counselors and other factors.
The Princeton Review is a New York-based education services company known for its education, admission and test-prep services.
Transylvania, founded in 1780, is the nation's sixteenth oldest institution of higher learning and is consistently ranked in national publications as one of the top liberal arts colleges in the country.