LEXINGTON, Ky.—The year 1963 was a watershed for race relations—both nationally and at Transylvania University.
Fifty years ago, Martin Luther King Jr. delivered his "I Have a Dream" speech in Washington, D.C. Around the same time, Lula Morton Drewes '67 became the first African-American student to enroll in the regular B.A. degree program at Transylvania, an act that heralded the beginning of desegregation at the university.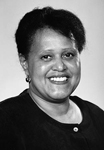 Drewes will soon mark the 50th anniversary of her enrollment with a return to campus. She'll speak at Transylvania's fall convocation, which formally opens the academic year, at 7 p.m. Sept. 15 in Haggin Auditorium. The event is free and open to the public.
The convocation will kick off a year-long celebration and discussion at Transylvania titled "Still Overcoming: Striving for Inclusiveness." The program will focus on the advent of a more enlightened attitude toward racial and ethnic diversity, which Drewes's arrival on campus has come to symbolize, and on other events that have furthered this purpose over the years.
Additional speakers, scholarly presentations, panel discussions, film screenings, and music and artistic programs are among the other activities being considered for Still Overcoming. It will center not only on Transylvania's experiences, but also on related issues in America both past and present.
"Race is obviously still an issue in this country, and we want it to be the starting point for our conversation at Transylvania as we celebrate 50 years of desegregation," said Eduardo Nino-Moreno, director of campus diversity and inclusion, who is coordinating Still Overcoming. "But we also want to embrace the broadest possible definition of diversity as we look for ways to be more inclusive on campus and in our wider interactions."
As for Drewes, "We are thrilled to have her come back to Transylvania for convocation and for our program of celebration as we look back on some of the formative events in the university's history relating to tolerance and openness," Nino-Moreno said.
Drewes, a 1967 Transylvania graduate and a 1963 graduate of Lexington's Bryan Station High School, went on to earn a Ph.D. in clinical psychology from Vanderbilt University and currently works as a clinical psychologist and wellness coach in Berlin, Germany. She has worked in private practice and in family counseling, mental hospital, and academic settings in Germany and the United States.
In addition to her convocation speech, Still Overcoming events will include:
An American Spiritual Ensemble concert directed by Everett McCorvey, director of the University of Kentucky Opera Theatre, Sept. 22 at 3 p.m. in Haggin Auditorium, free admission.
"The Grace of Silence," a lecture by National Public Radio's Michele Norris on Oct. 8 as part of the university's Kenan Lecture series.
"Anne Braden: Southern Patriot," a film screening and discussion with filmmaker Mimi Pickering in November.
"Making Whiteness Visible," a film screening and discussion in December.
"Integrating Athletics at Transylvania and Beyond," a panel discussion featuring former Transylvania basketball coach C.M. Newton, former Transylvania basketball player Jim Hurley, former Alabama player Wendell Hudson, and sports journalist and Transylvania graduate Billy Reed '66 in February.
"Integration on U.S. Campuses Today," a panel discussion featuring Miami University professor Rodney Coates in March.
A campus-wide activity based on Norris's The Race Card Project coordinated by student leaders in September and October.
An exhibit of Rob Shetterly's portraits of "Americans Who Tell the Truth: Models of Courageous Citizenship," selected to complement the Still Overcoming theme, in September and October.
For more information, visithttps://www.transy.edu/diversity/still_overcoming.htm.