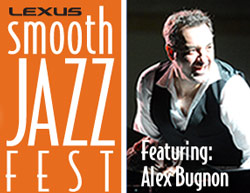 LEXINGTON, Ky.—Jazz pianist and composer Alex Bugnon will perform at Transylvania University Saturday, August 10, at 7:30 p.m., for the sixth annual Lexus Smooth Jazz Fest. This is the second year Transylvania has hosted the event, which is presented by the African American Forum. Bugnon will be joined by special guests Cindy Bradley and Nelson Rangell. The festival will be held outdoors on Old Morrison front lawn on Third Street between Broadway and Mill.
Bugnon is from Montreux, Switzerland and studied at the Paris Conservatory and the Mozart Academy in Salzburg. At age 19, he moved to the U.S. and attended the Berklee School of Music. His recording career began with his 1989 debut album "Love Season," which breached the pop charts and the Top 40 of the R&B charts as did his follow-up "Head Over Heels." He toured with Gospel Leviticus in the Deep South. He has won two Soul Train Music Awards.
By age 12, Bradley was performing professionally on the trumpet with Sugar and Jazz, a Buffalo, N.Y., area group of young musicians. She has toured with legendary urban jazz group Pieces of a Dream, performed in New York with The Sly Geralds Band and has played such renowned events as the Big Bear Lake Jazz Festival, Omaha's Riverfront Jazz and Blues Festival, the Balcones Heights Jazz Festival in San Antonio and the North Carolina Wine and Jazz Festival.
Jazziz magazine writes that Rangell is "an artist of depth, a master of song and an improviser non pareil." The Denver-based saxophonist emerged in the late 1980s and plays soprano, alto and tenor saxophone, as well as flute and piccolo.
The African American Forum is a non-profit organization based in Lexington that develops programs to support the artistic, cultural and educational achievements of African Americans in order to embrace diversity and create a greater, united culture. Net proceeds from the Lexus Smooth Jazz Fest will benefit the African American Forum Endowment Fund.
Basic tickets are $30 and VIP tickets are $75. They are on sale now at AAFinc.com or by calling 859-255-2653. Group rates are available.