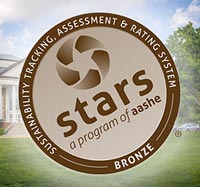 LEXINGTON, Ky. – Transylvania University has been recognized for earning a STARS Bronze rating. The Sustainability Tracking, Assessment and Rating System (STARS) is a transparent, self-reporting framework for colleges and universities to measure their sustainability performance. STARS was developed and is administered by the Association for the Advancement of Sustainability in Higher Education (AASHE). This is the first year Transylvania has completed the STARS assessment.
Transylvania was scored based on categories such as "education and research," which includes co-curricular education, courses available in sustainability, and sustainability research; "operations," which includes keeping track of greenhouse gas emissions, offering reusable dining containers and trayless dining, lowering energy consumption and encouraging carpooling or bicycling to work; and  "planning, administration and engagement" which evaluates cultural diversity, the employee wellness plan, and the strategic plan's coordination with the sustainability plan.
In recent years Transylvania has made significant reductions in electricity and gas consumption through, investments in energy retrofits, an aggressive winter shutdown program, and the implementation of a comprehensive energy plan. There are also numerous opportunities for students to be deeply engaged in sustainability efforts on campus and in the local community. Transylvania has committed to a sustainability master plan which was incorporated in the university's strategic plan, Transylvania 2020.
"I'm proud of the entire Transylvania community for its efforts supporting sustainability," Angela Poe, sustainability director, said. "Attaining a Bronze rating with our first STARS submission is a huge achievement."
More information on STARS can be found here and Transylvania's report is available online here.