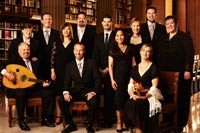 LEXINGTON, Ky.— Critically acclaimed group The Rose Ensemble will present "Land of Three Faiths: Voices of Ancient Mediterranean Jews, Christians, and Muslims" on Wednesday, September 11, at 7:30 p.m., in the Mitchell Fine Arts Center's Haggin Auditorium as part of Transylvania's Dorothy J. and Fred K. Smith Endowed Concert Series. The concert is free and open to the public, no ticket necessary.
"This event reminds us that religious traditions are often agents of peace and tolerance in our world," said Wilson Dickinson, Transylvania's associate dean for religious life. "This concert is a suitable way to memorialize this difficult day, as our community can join together in the mutual admiration and celebration of our multiple cultural and religious heritages."
Founded in 1996 by Artistic Director Jordan Sramek, The Rose Ensemble reawakens the ancient with vocal music that stirs the emotions, challenges the mind and lifts the spirit. The Saint Paul, Minnesota, group tours internationally with repertoire spanning 1,000 years and 25 languages, including new research in Middle Eastern, European and American vocal traditions. The Rose Ensemble received the 2005 Chorus America Margaret Hillis Award for Choral Excellence and won first prize in sacred and secular music categories at the 2012 Tolosa Choral Contest in Spain (part of the European Choral Grand Prix). Sramek received the 2010 Louis Botto Award from Chorus America "for entrepreneurial zeal." The Rose Ensemble has released nine recordings.
The result of years of intensive research and training, "Land of Three Faiths" is at once sacred, secular, folk and classical, embarking on a fascinating exploration of language, spirituality and cultural exchange. Featuring instruments and musical ideas that blur the lines between Arabic and European, this entertaining and enlightening program is steeped in the rich history of the Abrahamic faiths, achieving a perfect balance of edgy improvisation, exotic vocal styles and ancient traditions.
Highlighting the Hispano-Arabic Middle Ages as both an important and devastating chapter of Judaic, Christian and Islamic history, laments of the Sephardic Jews mingle with Arab-Andalusian dances and Spanish court songs, while rhythmic cantigas, Hebrew cantillation and Gregorian chant meet the mystical world of Sufi poetry.
For more information, contact the public relations office at (859) 233-8120.
The Smith Concert Series was created in 2007 by the late Dorothy J. Smith, a 1942 Transylvania graduate, to bring high quality musical performances to Transylvania. The series is named for Smith and her late husband, Fred K. Smith, a 1940 Transylvania graduate.  Previous concerts in the series include Anonymous 4, Canadian Brass, Chanticleer, Kronos Quartet, and Tiempo Libre.