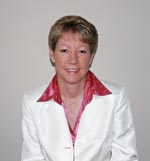 LEXINGTON, Ky. —Transylvania University has named Holly K. Sheilley, currently the assistant director of championships for the NCAA, as its new athletics director, effective July 1, 2013.
"Holly will be an outstanding addition to Transylvania," said President R. Owen Williams. "Her extensive and varied experience will enhance our already strong athletics program."
Sheilley has been with the NCAA since 2010. She managed four Division I Championships, including the two largest in terms of student-athlete participants, as well as five Division III Championships, including the two biggest. In total, she was responsible for oversight of over $3 million in operating budget.
"I am extremely humbled and honored for the opportunity to serve as the athletics director at Transylvania University, Sheilley said. "I am committed to continuing the long-standing history of academic and athletic excellence by raising the bar and moving us forward as contenders in Division III. After getting to know the people here, it is clear that the university has a bright future. I am excited to work with such a great group of coaches, staff members and student-athletes."
Prior to joining the NCAA, Sheilley spent eight years in athletics administrative posts at the University of Louisville, working under athletics director Tom Jurich. She has been assistant athletic director for championships and student development and assistant compliance coordinator since 2002.
"I am delighted that Holly is coming to Transylvania," said Barbara LoMonaco, vice president for student affairs and dean of students. "She brings great leadership, energy and vision to the position and is a good fit for Transylvania."
Sheilley received her doctorate in sports administration from the University of Louisville and her master's in health education from Eastern Kentucky University. She was awarded a Bachelor of Science degree from Asbury College, where she played softball and volleyball.
She was a highly successful coach for both sports at Lindsey Wilson College, earning KIAC Coach of the Year honors four times. She was named Female College Coach of the Year for Kentucky in 2000.
Among her responsibilities at the University of Louisville, Sheilley provided oversight of the LCARE program, a comprehensive effort to provide support and serve as a link between student-athletes and various campus-wide opportunities that are available to all students. Part of the program involved opening the first student-athlete career center in the nation in 2009.
Also at Louisville, Sheilley developed and managed the process for bidding and hosting championships for 23 sports, a role that included oversight of budgets, organizing event staff, directed marketing and hospitality, and collaborating with the Greater Louisville Sports Commission and Sports Authority.
She has taught classes while at Louisville and Lindsey Wilson in sports administration and physical education and health.