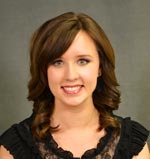 LEXINGTON, Ky. — Transylvania University announced today that Laura Rudolph will become sports information director in July. She replaces Glenn Osborne, who resigned in May after serving in the position for 14 years.
Rudolph, currently the university's digital recruitment coordinator for the admissions office, has a bachelor's degree in journalism, with emphasis in sports journalism, from Eastern Kentucky University and is completing a master's degree in integrated marketing communications from West Virginia University. Rudolph covered NCAA Division I athletics, the Ohio Valley Conference, major league baseball, OVC championships, and the NCAA football championship subdivision tournament as a sports editor for the Eastern Progress, in Richmond, Ky. In addition, she has covered and photographed local high school and college athletics as a sports reporter at the Corbin News Journal in Corbin, Ky.
"I am humbled and excited about the opportunity to continue my love for Transylvania as a member of the Transylvania athletics department," Rudolph said. "I look forward to focusing my efforts and abilities on telling Transylvania's untold stories, developing our online platforms and sharing the amazing accomplishments of our student-athletes and alumni."
Osborne enlisted Rudolph to take charge of digital media coverage for first-round games in the NCAA Division III Tournament in 2012, which were hosted by Transylvania. Rudolph was also responsible for occasional sports photography, running live blogs and social media during Transylvania's basketball games with the University of Kentucky.
The sports information director serves as the primary media contact for Transylvania's 23 intercollegiate athletics teams. Rudolph will also assist the athletics director with the coordination of Transylvania athletics events.