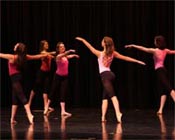 LEXINGTON, Ky.—Kentucky's most talented young artists, selected from 1,800 state-wide applicants, will assemble on Transylvania University's campus on Sunday, June 23, to begin the three-week 2013 session of the Governor's School for the Arts.
The latest GSA class is comprised of 223 rising juniors and seniors from 48 Kentucky counties who will receive top-level training through daily seminars, master classes, lectures, hands-on workshops and field trips to various arts attractions in central Kentucky.
The student-artists will receive rigorous instruction in nine disciplines: architecture, creative writing, dance, drama, instrumental music, musical theatre, new media, visual arts and vocal music.
Since 1987 more than 4,700 of the state's most talented high school artists from all 120 counties have attended the GSA summer program following a highly demanding selection process. Each year 1,500 students have applied annually for one of the available scholarships, valued at $3,800. GSA is free to all participants. Transylvania is among 23 colleges and universities that offer scholarships to GSA alumni.
The program will culminate on Saturday, July 13, with an all-day festival that celebrates the achievements of the young artists through performances open to family, friends and the public. Graduation ceremonies will be held that day at 5 p.m. in Haggin Auditorium in the Mitchell Fine Arts Center.
Program highlights in 2013 include performances by pianist Henry Pickens, singer/songwriter Ben Sollee, percussion ensemble Caixa Trio and dance performance by the Moving Collective. Presentations will be given by celebrated author and GSA alum Jonathan M. Katz, Kentucky's 2013 poet laureate Frank X. Walker and the Affrilachian Poets. Stephanie Roberts will perform her film-noir style Mask of the Broken Heart, a one-woman mask play that has received critical acclaim.
In addition to a rigorous arts curriculum, students will have the opportunity to meet with college representatives from over 25 in-state and regional institutions during a college fair and participate in a Community Service Day.
Entering its 26th year, GSA is a public/private partnership inaugurated in 1987 by The Kentucky Center, the Commonwealth of Kentucky and numerous private supporters. Today, the vital funding required to make GSA a reality is provided by the state through the leadership of the Governor's Office and the Kentucky Tourism, Arts and Heritage Cabinet, as well as The Kentucky Center Endowment Fund, Toyota Motor Manufacturing and more than 300 corporations, parents, educators, alumni and friends of GSA.
For more information on GSA, visit www.kentuckygsa.org.