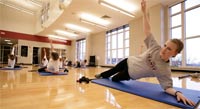 LEXINGTON, Ky.—Transylvania University has been named a Fit-Friendly Company at the Gold Level by the American Heart Association, which recognizes workplaces that champion the health of employees.
To make the cut, Transylvania had to demonstrate participation in areas outlined by the American Heart Association to promote physical activity, nutritional well-being and an overall organizational culture of health consciousness.
Transylvania demonstrated its commitment to being a healthy place to work through its Wellness Works initiative, which offers various programs to faculty and staff that target physical, financial, emotional, occupational, intellectual and social wellness.
Ashley Hinton-Moncer, director of health and wellness and chair of the Wellness Works committee, said committee members have worked hard this year to continue to improve wellness on campus.
"One of our newest initiatives this past year was games on the lawn.  Throughout the summer we provided a variety of lawn games to encourage employees to step outside during lunch and engage in some friendly competition.  We continue to improve our health and wellness efforts and are extremely excited about the future."
This past year Transylvania also implemented "Fit Friday" where every Friday faculty and staff are encouraged to be active for a minimum of 20 minutes.  Those who participate receive a free "Fit Friday" T-shirt they can wear with jeans and tennis shoes. They also get 15 extra minutes during lunch to work out.
Transylvania also requires all vending machines to have healthy snacks selected from a list the wellness committee created and water must be available in all vending machines at the same cost as soda. In addition, Transylvania has a community garden where employees can grow fresh fruits and vegetables.
 
The American Heart Association also looked at smoking policies and Transylvania has been a tobacco free campus since August 1, 2010.
Free wellness benefits that Transylvania offers to its employees include an annual health fair with flu shots, counseling sessions with a nutritionist, smoking cessation courses, fitness classes, financial and retirement planning sessions, group walks to the Farmers' Market, healthy cooking classes and non-emergency healthcare. Transylvania also made a commitment to wellness in its seven-year strategic plan, Transylvania 2020, which was approved in February.