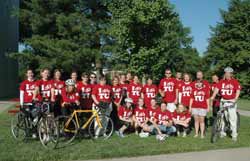 LEXINGTON, Ky.—Transylvania University faculty, staff and students will celebrate National Bike to Work Day by biking to campus on Friday, May 17. Cyclists can meet at Shriners Hospital on Richmond Road at 8 a.m. and bike to Transylvania together or they can bike to Transy on their own. Bagels and Bike to Work T-shirts will be available for all cyclists in Old Morrison Circle.
May is National Bike Month and Transylvania has offered several other bike-related events for the campus community including a spring tune-up workshop conducted by the Transy Bikes! Shop, a snack and learn session on bike safety and maintenance and a bike skills relay.
For Transylvania's one-month May term, exercise science professor Sharon Brown lead students on bike rides around the region for her "It's All About the Bike" class. Topics in this class have included cycling and public health, nutrition, cycling injuries and prevention, physiology of cycling, bike maintenance, bike safety and sustainability. The last full week of the class included Transy's Tour de Kentucky, May 14-16, from Lexington to Frankfort, Terrapin Hill, Harrodsburg and back to Lexington. The class will also participate in the group ride to campus on May 17.
This is the third year for Transylvania to participate in Bike to Work Day and several members of the Transylvania community commute by bike regularly. Transylvania has bikes on campus that can be checked out by faculty, staff and students who need to make quick trips around the city. The Transy Bikes! Shop has moved to a larger facility and assists with bike repair and maintenance. A bike shelter was built behind Forrer Residence Hall last year and the university plans to add more bike storage facilities and sponsor more cycling-related activities.