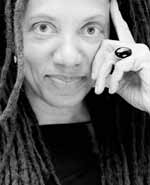 LEXINGTON, Ky.—Transylvania University will award the honorary degree of Doctor of Humane Letters to poet Nikky Finney at the May 25 commencement ceremony on the front steps of historic Old Morrison. Finney is a nationally recognized poet and professor of English and creative writing at the University of Kentucky. She delivered the convocation address to Transylvania students in September 2012.
Her latest book of poetry, "Head Off & Split," won the 2011 National Book Award for Poetry and explores important people and events in African American history. One reviewer said the book confirmed her role as "…one of the most eloquent, urgent, fearless and necessary poets writing in America today…." Two other books of poetry have been award winners—"The World is Round" won the Benjamin Franklin Award for Poetry, and "Rice" won a PEN American Open Books Award.
Her other writing includes "On Wings Made of Gauze," a debut collection of poetry, and "Heartwood," a collection of short stories. She also edited "The Ringing Ear: Black Poets Lean South," which has become an essential anthology of contemporary African American writers.
Finney was born and raised in South Carolina as the child of activist parents. Her father was a civil rights attorney and her mother was a teacher. Coming of age during the Civil Rights Movement and the Black Arts Movement and seeing her parents deeply involved in the struggle for justice, she learned early on the power of language. Her poems bear witness to those powerful crusades on behalf of human dignity. They speak of family and politics, violence and compassion and to the experiences of black America and alternative sexualities.
Finney earned a B.A. in English literature from Talladega College and did graduate studies in African American literature at Atlanta University. Before her present position as the Guy Davenport Endowed Professor of English at UK, she held several academic appointments. Among these were the Goode Chair in the Humanities at Berea College and the Grace Hazard Conkling Writer-in-Residence position at Smith College
This August, Finney will begin her new role as the John H. Bennett Jr. Chair in Creative Writing and Southern Literature at the University of South Carolina. This is a joint appointment in the English language and literature department and the African American studies program. She will also teach in the MFA creative writing program.
The ceremony begins at 9:30 a.m. Actor Steve Zahn will deliver the commencement address and approximately 220 students will receive bachelors of arts degrees.
For more information, contact the public relations office at (859) 233-8120.