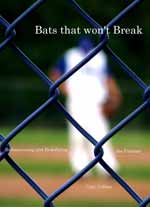 LEXINGTON, Ky.—Baseball players in America have come to evoke visions of gods with enormous athletic abilities and even higher salaries, heroes in a sport that draws tens of millions of fans each year to see these figures hit towering home runs while staying respectfully stoic until the long season ends.
Transylvania University senior Cory Collins sets out to show a forgotten side of baseball in his new book, "Bats That Won't Break."
The book chronicles the stories of eight members of the Louisville Bats, a minor league affiliate of the Cincinnati Reds, as they spend time middling in the lower levels of baseball, traveling by bus rather than private jet and making a fraction of what the typical big leaguer earns. Some of those players, like Dominican outfielder Denis Phipps, came from humble roots and are waiting their turn to break in to the Major Leagues. Others, such as catcher Corky Miller, will spend their entire careers in the minors with virtually no shot at The Big Show. Bats manager David Bell had an 11-year MLB career and now spends his time coaching up the next round of hopefuls, and even groundskeeper Tom Nielsen hopes for a shot to curate a big league diamond, a skill he taught himself by mowing freshly cut lines in his backyard as a child.
"All of these guys started with a boyhood dream, and I wanted to look at how they transformed from having that dream into who they are today," Collins said. "I love statistics—I was the kid that had spreadsheets of fake players and their stats—but the thing that I always liked about baseball is that you want to know about the person on your card. There's something romantic about that."
The idea for the book came during a May term independent study. Collins pitched his idea to the Bats front office, and they issued him credentials and full access to the facilities and the team during an eight-game home stand. He conducted interviews, covered games, and wrote the book in just five weeks, a process he called "frenetic," but surprisingly organic.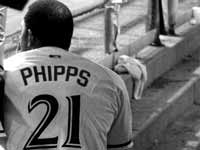 "I stayed in a really cheap hotel and would go to the game about three-and-a-half hours early, do interviews before the game, cover the game, then stay after for the post-game interviews," he said. "I'd get to my hotel around 10, then write until the next day when I'd go back. Most of it was just compiling all these notes, locking myself in a computer lab, and going to town."
He was amazed to hear some of the stories that came out in those interviews, particularly the one of Phipps. He grew up playing basketball while his brother was the baseball star. In the chapter titled "El Natural," Collins writes about Phipps's decision to switch sports at 18 years old, an age when many players are already being drafted and taking multi-million-dollar signing bonuses. Phipps's brother, who never got his shot at the Major Leagues, trained him to the point where he got good enough for the Reds to offer a contract. Phipps was called up to the Reds for the first time that September.
"I was super excited when he got the call," Collins said. "He was the one I couldn't take my eyes off of. Most of the Reds top prospects were in lower levels, so I didn't think I'd have much of a chance to talk to a guy that broke in, but he made so many plays that caught the crowd's attention. I fell in love with the way he played."
That love of the game permeates through the writing of Collins, who served as sports editor of Transylvania's college newspaper and hopes to one day cover sports for a living.
"Since I've been at Transylvania, I've tried to personalize my education so that I'm not only getting a wide-ranging education, but I'm also doing things that will be fruitful to where I want to go in my career," he said. "I always found ways within the structure of the school to help propel me as a writer. The school is very supportive of students who take that type of initiative."
Collins has also written two novels, a feature-length screenplay and a novella and co-wrote a play. "Bats That Won't Break" is available on Amazon.com, the Amazon Kindle Store, and CreateSpace.com.