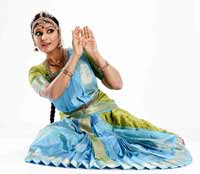 LEXINGTON, Ky.—Transylvania University's World Voices program presents an evening of Indian music and dance, featuring Lakshmi Sriraman, on Wednesday, May 1, at 7:30 p.m. in Old Morrison chapel. Flautist G. S. Rajan, narrator Samuel Themer, cellist Suzanne McIntosh and percussionist Tripp Bratton will also perform. The performance is open to the public. Free tickets are available Monday-Friday, 1-4 p.m., in the Mitchell Fine Arts Center, room 113. There is a limit of two tickets per person. If there are still seats available, tickets will also be available at the door.
The program will feature classical Indian dance called Bharatanatyam, Indian music featuring flute and percussion a collaborative piece featuring cello, djembe, spoken word and dance movements based on Bharatanatyam.
Bharatanatyam is one of the oldest classical dance forms of India, dating back to 1000 B.C. It is known for its rhythmic and ornate footwork along with narrative storytelling. The dance is accompanied by classical Carnatic music. Traditional Bharatanatyam has been performed predominantly as a form of deep devotion. It moved from royal courts into theaters, then expanded to include more secular stories and poems.
Lakshmi Sriraman is an accomplished performer, choreographer and teacher of Bharatanatyam. Her ability to portray complex human emotions in stunningly simple ways is a hallmark of her dance. In 2010, Lakshmi was the recipient of the Art Meets Activism grant from the Kentucky Foundation for Women. She has also been selected to participate in the Performing Arts Directory, a selective program of the Kentucky Arts Council that rewards artistic excellence.
G. S. Rajan is a composer and Carnatic classical flautist. He has performed in many international festivals around the world, and his compositions have received appreciation from maestros Ravi Shankar and Zubin Mehta. He has also composed for films, documentaries, musicals, stage plays and ballets.
Samuel Themer is a junior studying vocal music at the University of Kentucky. He has performed as Monsieur Reyer in "Phantom of the Opera" and as a soloist with the Central Kentucky Youth Orchestra and in the ensembles of "The Pirates of Penzance," "Romeo et Juliette" and "Falstaff."
Suzanne McIntosh has taught at the conservatory of the National University in Columbia, Brigham Youth University and the University of Kentucky. She has played with the Deseret Quartet and served as principal cellist for the National Symphony of Columbia and Ballet West. Locally, she has played with the Concord Trio, Chanson Trio and Lexington Philharmonic.

Tripp Bratton is a Lexington-based performer, composer, producer and educator. He teaches percussion at Berea College and is director of the African-Latin Percussion and Contemporary Percussion (Fusion) ensembles. He serves as director, composer and arranger for the local March Madness Marching Band. He is also the music director for the Rakadu Gypsy Dance and Sabi Diri Sbi multicultural dance troupes. He is the founder and director of One Circle Productions. He has a vast discography of more than 50 CDs and albums and numerous television, radio and concert appearances.