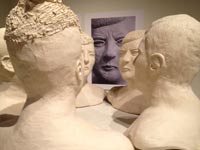 Work by Katelynn Ralston
LEXINGTON, Ky.—Transylvania University's six graduating art majors will showcase their work in a senior thesis exhibition titled "3XD: Design, Displace, Daddy Issues," April 4-19 in the Morlan Gallery in the Mitchell Fine Arts Center.
Artists Paul Michael Brown, Rachel Kimbrough, Meredith Mullican, Katelynn Ralston, Emily Shirley and Amanda Skinner, working in a wide range of media, decided to pair their work according to theme, thus the three exhibition subtitles: design, displace, and daddy issues.
Mullican and Skinner created work concerned with design, specifically the process involved in interior design and environmentally and socially sustainable architecture. Kimbrough and Shirley address the social issues of introverted personality and consumption of idealized feminine youth through notions of displacement. Brown and Ralston elaborate on the complexities of queerness, in both the private and the political, while playing with emotional distance or 'daddy issues.'
The public is invited to celebrate the accomplishments of the six seniors at the opening reception for the artists on Thursday, April 4, from 5-8 p.m. The art majors will give presentations in the Morlan Gallery on Tuesday, April 9, from 12:30-1:20 p.m. The exhibition concludes with the Lexington Gallery Hop on Friday, April 19, from 5-8 p.m.
The Morlan Gallery's regular hours are noon-5 p.m. weekdays. For more information, contact Andrea Fisher, gallery director, at (859) 233-8142, or afisher@transy.edu.