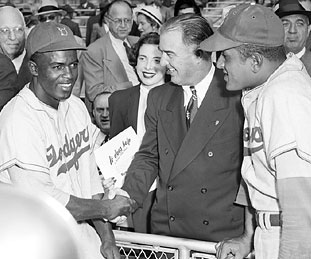 LEXINGTON, Ky. — On April 15, 1947, Jackie Robinson broke the color barrier in Major League Baseball when he started at first base for the Brooklyn Dodgers. Transylvania's own Albert B. "Happy" Chandler (class of 1921), the commissioner of baseball, had approved Robinson's contract with the Dodgers to set the stage for the landmark event. Robinson went on to become the National League Rookie of the Year and member of the National Baseball Hall of Fame. The recently released film "42" chronicles Robinson's struggles as a baseball pioneer who becomes a national icon.
 
In 1985, Chandler discussed the reasoning behind his decision in this interview. He argued that young Americans who had risked their lives on the front lines during World War II should not be denied the opportunity to play the nation's pastime. With his mind made up, he had the courage to overrule the recent vote of the Major League owners, who wanted to deny African-Americans a place in their sport.
While at Transylvania, Chandler played three sports-he was captain of the baseball and basketball teams and the quarterback for the football team-and briefly pursued a professional baseball career. He instead decided to attend law school and launch a political career. He eventually served as Kentucky's senator and governor (twice). Chandler was elected posthumously to Transylvania's Pioneer Hall of Fame in 2012.
Photo: Commissioner of Baseball A.B. "Happy" Chandler shakes hands with Jackie Robinson at the 1949 World Series, while pitcher Don Newcombe looks on.