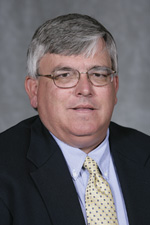 LEXINGTON, Ky.—Vice President for Student Affairs and Dean of Students Barbara LoMonaco announced today that Jack Ebel, director of athletics, will become the associate athletics director for outdoor facilities at Transylvania, effective July 1, 2013.
"Jack's many years of experience and vast knowledge of athletics at Transylvania will be a tremendous asset to us as we expand our sports facilities and programs," LoMonaco said.
"It has been my pleasure to serve as director of athletics for the last seven years." Ebel said. "During this time, the athletics program has made great strides in hiring more women coaches and increasing the competiveness of our women's sports program."
Under Ebel's tenure, the number of athletes increased from 270 to almost 400; numerous teams qualified for NCAA post season play; men's and women's track, men's and women's lacrosse, and equestrian programs were added and the cheer and dance program was upgraded to competitive status. In addition, the women's program won two HCAC All Sports awards and is currently in the lead for this year. The men's and women's program combined, won the last two HCAC Commissioner Cup trophies.
"It is only through the hard work and relentless efforts of our coaches and staff that these remarkable achievements have been attained," Ebel said. "I am proud to have played a role in these successes."
In his new position, Ebel will oversee and coordinate the use of the university's new Fourth Street athletics facilities, including scheduling, staffing, supervising and monitoring of daily operations. He will serve as Transylvania's chief NCAA compliance officer and perform alumni relations duties, including directing the efforts of the Pioneer Club, organizing and promoting the Hall of Fame induction ceremony and further developing the T Club concept for alumni varsity lettermen.
"I am looking forward to completing the vision of our new outdoor athletics complex," Ebel said. "This project began as a dream seven years ago. I look forward to finishing the project over the summer and the long term benefit it will provide our athletics programs and the Transylvania community."
Ebel, a 1977 graduate of Transylvania, has served the university as director of athletics since 2006. He was men's and women's swim coach from 1978-2006, men's and women's tennis coach from 1979-2000, director of the university's swim lesson program from 1984-2006, physical education instructor from 1984-2006 and assistant director of the William T. Young Campus Center from 1984-2006. He created Transylvania's swim lessons program and all-sports camp and served as director of both for 23 years, during which time over 17,000 children learned to swim and over 8,000 children participated in all-sports camp.
Ebel was inducted into the Transylvania Pioneer Hall of Fame in 2005, named Bluegrass Mountain Conference Women's Coach of the Year in 2003, NAIA National Men's Swim Coach of the Year in 2000, NAIA National Women's Swim Coach of the Year in 1999, NAIA District Coach of the Year for Women's Tennis from 1983-93 and for men's swimming from 1991-93, and the Kentucky Intercollegiate Swim Coach of the Year for 1987 and 1988. He has held several offices in the NAIA Swim Coaches Association and the Bluegrass Mountain (Penn-Ohio) Swimming Conference. He served as the swimming sports chair and meet director for the Bluegrass State Games from 1992-2010.
A national search for an athletics director will begin immediately.