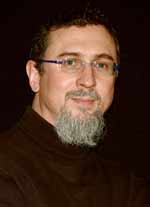 LEXINGTON, Ky.—Transylvania University philosophy professor Peter Fosl has been named the first recipient of the David Hume Fellowship at the Institute for Advanced Studies in the Humanities (IASH) at the University of Edinburgh in Scotland. From September 2013 until February 2014, he'll pursue his own research at the university, present his findings, and engage with other international scholars in the university's academic community.
The fellowship was established as part of the university's year-long celebration of the tercentenary of the birth of David Hume (April 22, 1711). Applications were accepted from Hume scholars around the world.
"The appointment as David Hume Fellow with the IASH is a dream come true for me," said Fosl.  "Students at Transylvania know that Hume is an intellectual hero of mine, and they endure sitting beneath a rather large portrait of him I've hung in our principal philosophy classroom—a copy of the portrait that hangs in the National Portrait Gallery in Edinburgh. It's dizzying to think I'll be working among some of the world's best philosophers in the town where he lived and the university he attended."
Fosl studied at the University of Edinburgh once before, as a Fulbright student working on his dissertation in 1990-91. He received the more recent fellowship on the strength of his research titled "The Promise of Philosophy: Skepticism and Naturalism in Hume."
"It's a perfect circle to my intellectual career," Fosl added. "A number of Transylvania students have recently enrolled at the University of Edinburgh for graduate studies. Sending my students off to study where I had studied was gratifying enough, but now to be following them to Edinburgh to work with the same professors with whom they worked confirms for me that Transylvania students really are colleagues swimming the same intellectual seas."
Hume, one of the most notable philosophers of the Scottish Enlightenment, lived and produced much of his work in Edinburgh, including one of the most significant books in the history of philosophy, "A Treatise of Human Nature."
Many of the scholars at IASH, which was established in 1969, focus their research on the Scottish Enlightenment, and the city of Edinburgh offers important resources for that research in its libraries and archives.