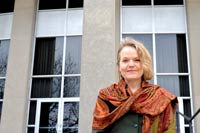 LEXINGTON, Ky.—Actress, director and playwright Margo Buchanan has been selected to direct Transylvania University's production of the Broadway musical "Pippin." Sully White, Transylvania's theater program director, will produce the show, which will be presented by the university's theater and music programs May 16-19.
"I have a deep affection for 'Pippin,'" Buchanan said. "I had the vinyl record when I was a kid and I wore the grooves out. But, it has been an eye-opener getting to know this musical again as an adult."
Buchanan has taught professionals, college students and children in Chicago and Kentucky. In Chicago, she learned sign language, taught acting at The Center on Deafness and won grants to teach acting to deaf children in the city schools. These experiences led to her 1994 appearance in the feature film "Miracle on 34th Street," where she interpreted for and acted with Lord Richard Attenborough.
White said she was taught by Buchanan as part of the Lexington Shakespeare Institute's summer program and knew that Buchanan would be a great fit to direct "Pippin."
"I have seen several things Margo has directed, and I trust her implicitly. She will be good with our students," White said.
Although Buchanan has directed non-traditional musicals and light operas, she says this musical is a whole new experience.
"As I delve into 'Pippin' it seems less and less traditional," Buchanan said. "It's format and structure is that of a Broadway musical, but the story line – not really.  You will have to come to a performance to see what I mean."
As a member of Actors Equity and the Screen Actors Guild, Buchanan has performed in regional theatres around the U.S., at the Kennedy Center and in the Jerusalem Festival in Israel. Some of her favorite plays as a director include William Gibson's "The Miracle Worker," which starred a young deaf actress as Helen Keller; "Arcadia," by Tom Stoppard; "Picasso at the Lapin Agile," by Steve Martin; and the musical "Once on this an Island." Some of her favorite acting roles include Emelia in "Kabuki Othello," Ruth in "Blithe Spirit," Mistress Page in "The Merry Wives of Windsor" and the Empress of Hell in the musical "The Warrior Queen."
As a playwright, she created a stage adaptation of "The Heart is a Lonely Hunter" and wrote "Daniel Boone: The Man and the Legend" and "The Freedom Trail," both with Michael Friedman. She now serves as the arts facilitator at the School for the Creative and Performing Arts in Lexington.
The musical uses the premise of a mysterious acting troupe, led by a Leading Player, to tell the story of Pippin, a young prince on an ambitious quest for an extraordinary and meaningful life. The context of the show is purposefully anachronistic and unconventional, though the musical score reflects a contemporary 1970s pop style.
During the musical, Pippin's adventures include a mock battle to show him the life of a warrior, a series of meaningless sexual encounters that teach him how relationships without love are hollow, a fight against tyranny and experiments with art and religion, all in the name of finding his true calling in life.
Directed on Broadway by Bob Fosse and running for nearly five years in the 1970s, "Pippin" totaled 1,944 performances, and won five Tony awards in 1973. Music and lyrics are by Stephen Schwartz, and the book is by Roger O. Hirson.
Performances are at 7:30 p.m. May 16-18, and 2 p.m. May 19, in Haggin Auditorium in the Mitchell Fine Arts Center. Tickets are $15 and will be available online beginning May 1. Beginning May 13, tickets may be purchased at the Mitchell Fine Arts Center box office from 1-4 p.m. Monday-Friday.
Related:
Transylvania University will present Broadway musical "Pippin" May 16-19 in Haggin Auditorium