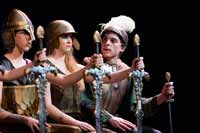 LEXINGTON, Ky. – Tickets for Transylvania's production of the Broadway musical "Pippin" are now on sale.
Tickets can be purchased at the Mitchell Fine Arts Center box office (beside Carrick Theater) from 11:30 a.m.-3 p.m. Monday-Friday. Tickets will also be available at the door a half an hour prior to each performance. The box office phone number is (859) 233-8601.
Performances are at 7:30 p.m. May 16-18, and 2 p.m. May 19, in Haggin Auditorium in the Mitchell Fine Arts Center. Tickets are $15 ($5 for students with ID) and tickets are also available for a pre-show brunch May 19 in Forrer Dining Room between 11:30 a.m. and 1:30 p.m., for $10 ($25 total for brunch and the show).
Actress, director and playwright Margo Buchanan has been selected to direct "Pippin," which is a joint production of the theater and the music departments. Sully White, Transylvania's theater program director, will produce the show.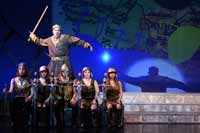 In the musical, a mysterious acting troupe, led by a Leading Player, tells the story of Pippin, a young prince on an ambitious quest for an extraordinary and meaningful life. The context of the show is purposefully anachronistic and unconventional, though the musical score reflects a contemporary 1970s pop style.
Pippin's adventures include a mock battle to show him the life of a warrior, a series of meaningless sexual encounters that teach him how relationships without love are hollow, a fight against tyranny and experiments with art and religion, all in the name of finding his true calling in life.
Directed on Broadway by Bob Fosse and running for nearly five years in the 1970s, "Pippin" totaled 1,944 performances and won five Tony awards in 1973. Music and lyrics are by Stephen Schwartz, and the book is by Roger O. Hirson.