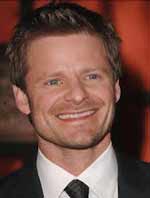 LEXINGTON Ky.–Actor Steve Zahn will deliver Transylvania University's commencement address on Saturday, May 25, at 9:30 a.m. on the steps of historic Old Morrison.
Zahn had his first big break in the 1994 movie "Reality Bites." He appeared in several films in the mid-1990s, including Tom Hanks' "That Thing You Do!" and Nora Ephron's "You've Got Mail."
In 1999, he was offered the starring role in the critically acclaimed film "Happy, Texas," for which he won an Independent Spirit Award for best supporting male and a Special Dramatic Jury Prize for best comedic performance.
Zahn received his strongest critical acclaim for his performance as Drew Barrymore's husband in "Riding in Cars with Boys." Roger Ebert, Richard Roeper and the BBC stated that the performance was deserving of an Oscar nomination.
Some of Zahn's popular recent movies include "National Security" (2003), "Daddy Day Care" (2003) and "Sahara" (2005). He also gave dramatic performances in "Rescue Dawn" and the television mini-series "Comanche Moon." Currently, Zahn plays the character of Davis McAlary in HBO's "Treme."
Zahn attended the Institute for Advanced Theatre Training founded by the American Repertory Theater at Harvard University.
Read more about Zahn's Lexington connections here. For more information, contact the public relations office at (859) 233-8120. More commencement information can be found here.