LEXINGTON, KY.—To tackle one of his most grueling projects yet, journalist Christopher S. Stewart needed someone who could guide him through dangerous jungles and nearly impassable terrains to discover the legend of a city lost to time—the White City in the Mosquito Coast of Honduras. So he turned to archaeologist and Transylvania University professor Chris Begley and chronicled their adventures in his book "Jungleland: A Mysterious Lost City, a WWII Spy, and a True Story of Deadly Adventure," which was released in January by Harper Collins.
In 2008, Begley and Stewart retraced the steps of World War II spy and explorer Theodore Morde, who claimed to have found the ancient city but died unexpectedly before disclosing its whereabouts. Some believe it was the spirits of the lost city—Ciudad Blanca—that killed him.
Through entries in Morde's secret journal, Stewart recreates the explorer's journey to the Mosquito Coast in "Jungleland" and tells his own story of superstition and fear while traveling with Begley—one of the world's leading experts on the legend—hundreds of miles through one of the most treacherous regions in the world. Along the way they encountered threats including deadly snakes, pirates, and viruses.
"Chris Begley led me through the Honduran jungle, picked me up when I fell down, and generally kept me alive as we hunted down the mystery of the great White City," explained Stewart. "I get why people refer to him by his other name: Indiana Jones."
For Begley, it was an opportunity to revisit an area he knows well and share his thoughts on the lost city.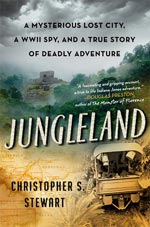 "We spent a month traveling all over the Mosquito Coast to every possible area you could imagine, from flying to islands off the coast to walking through the jungle and  making our way down rivers on balsa wood rafts," Begley said. "We followed Morde's footsteps, and along the way I talked a lot about what I think of the legend. It's very important for what it says about these groups of people."
Begley, a 1990 graduate of Transylvania, is a professor of anthropology and a National Geographic Explorer and expert presenter for Past Preservers. He has led digs and underwater explorations all over the world, including Spain, Honduras, and the United States. Read more about Begley
here
 or contact him directly at 
cbegley@transy.edu
. 
Stewart is a writer and editor at the Wall Street Journal. His work has appeared in the New York Times, GQ, Wired, Men's Journal, and Harper's, among other publications. To learn more about the book, visit his
website
 or contact him directly at 
csstewart@gmail.com
.