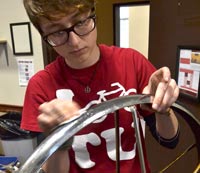 Transy Bikes Shop Manager Stevie Morrison '15.
LEXINGTON, KY.—Transylvania is gearing up to meet a growing enthusiasm for cycling in this bike-friendly city.
With a focus on sustainability, the university is expanding its bike loan program, has opened a larger repair shop, and plans to sponsor more cycling events and add storage shelters.
"Biking is healthy for us," Transy Bikes Shop Manager Stevie Morrison said. "It's also better for the environment. I almost never use my car anymore."
The cycling program's aggressive expansion is a part of a cultural shift that needs to take place as the campus itself grows and space for parking becomes increasingly limited, Sustainability Director Angela Dossett said.
Other resources include group rides with We Bike TU and a bike shelter behind Forrer Hall. Additionally, a fix-it-yourself outdoor station may be in the pipeline, and the campus will eventually connect to the Legacy Trail, a 12-mile bicycling and walking path.
To learn more about cycling in Lexington, students, faculty and staff are welcome to stop by the Forrer Hall shop, where they also can receive free help with repairs. They should be prepared to get a little grease on their hands. "I won't fix it for them, but we'll work together to get it fixed," Morrison said.
Junior Jim Price uses the shop a lot for repairs. "You learn how to do it yourself," he said. "You don't have to go and pay someone else to have those services."
The shop—which showcased its services and a new mural during a recent open—moved from basically a closet to what used to be a conference room at the start of the fall term. A new set of tools hangs on a pegboard near a mural, which features a Ferris wheel with a bike wheel for a hub. The Student Government Association pitched in to buy the tools and a second bike stand, and the Transy Student Art League helped create the mural.
Morrison, who is a sophomore, maintains loan bicycles at the shop. Members of the Transylvania community can sign up at the William T. Young Campus Center front desk to ride one of these seven new bikes for free.
Before the university bought the new bicycles, demand was low because the bikes weren't reliable. "The new bikes have breathed new life into the loan program," Dossett said. "We've actually had problem fulfilling demand because so many people want to use them."
There is a proposal to add more bikes for borrowing—short-term or possibly for as long as a semester.