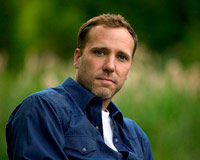 LEXINGTON, Ky.—Poet Maurice Manning will read from a collection of his work, including his upcoming book "The Gone and the Going Away," Monday, April 1, at 7:30 p.m. in Carrick Theater in the Mitchell Fine Arts Center. The event is free and open to the public.
Manning, who has published four books of poetry, was recently selected as one of the judges for the National Book Award poetry prize, which was awarded in November. On a panel with four other judges, he helped select a winner for the poetry prize from 181 submissions.
Manning's most recent book, "The Common Man," was one of three finalists for the 2011 Pulitzer Prize in Poetry. His first collection, "Lawrence Booth's Book of Visions," was selected for the 2000 Yale Series of Younger Poets. He has had his works in publications including The New Yorker, Washington Square, The Southern Review, Poetry, Shenandoah, and The Virginia Quarterly Review. Manning's fifth book, "The Gone and the Going Away," will be published in April.
Manning joined the Transylvania faculty in September 2012 as an English professor and writer in residence. He also teaches in the MFA Program for Writers at Warren Wilson College, the Appalachian Writers Workshop, and the Sewanee Writers' Conference.
The lecture is sponsored by the Delcamp Visiting Writer series. For more information, contact the public relations office at (859) 233-8120.