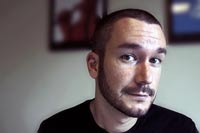 LEXINGTON, Ky.—Eric Stoller, higher education thought leader, consultant and writer will present Monday, April 8, at 7:30 p.m. in Haggin Auditorium in the Mitchell Fine Arts Center. The talk is free and open to the public.
Titled "Our Shared Future: Digital Identity, Leadership, and Your Career," his presentation will focus on social media and teaching students about digital identity development.
Stoller is a former academic advisor and web coordinator for the College of Health and Human Sciences at Oregon State University. He served previously as a marketing specialist for student affairs at the University of Illinois at Chicago. He has more than 10 years of experience in higher education and student affairs and has been blogging for more than eight years.
For more information about Stoller, visit his blog.