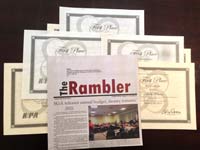 LEXINGTON, Ky.—The Rambler, Transylvania University's student newspaper, took home 27 awards from the 2013 Kentucky Intercollegiate Press Association (KIPA) Awards competition. It competes in the KIPA's B Division for schools with 5,000 or fewer students.
Sports editor Cory Collins, a senior from Vanceburg, Ky., led the way for the staff with seven individual awards, including both first and third places in the Sports News and Sports Feature categories. Also winning first place awards were designer Rachel Smith, a junior from Mayfield, Ky., in Opinion Page Layout; editor-in-chief Jake Hawkins, a senior from Princeton, Ky., in Editorial Writing; managing editor Molly Crain, a senior from Flemingsburg, Ky., in News Headline; and Andrew Williams '12 in Comic Strips.
"I'm really happy that we've been able to continue a tradition of excellence at the KIPA Awards," Hawkins said. "I'm especially happy for Cory Collins for taking essentially every award for the sports category. The awards are only a small symbol of the hard work our staff puts into this paper on a weekly basis."
The Rambler was founded in 1915 and publishes every Thursday during the academic year. Students volunteer their time to write and edit stories, shoot photos and design the newspaper.
"I couldn't be more proud of what they've have accomplished, not just in terms of awards, but also in producing a quality newspaper every single week," student media advisor Tyler Young said. "These are all students with full-time schedules studying subjects outside of journalism who have managed to become outstanding newspaper writers, photographers and designers, and it's great to see so many accolades come their way."
A full list of Rambler awards:
Front Page Layout, third place, Rachel Smith
Informational Graphic, second place, Rachel Smith
Overall Layout, second place, Sally Jagielski and Rachel Smith
Sports Page Layout, honorable mention, Rachel Smith
Best Feature Headline, second place, Scarlett Blevins
Best News Headline, first place, Molly Crain
Best News Headline, second place, Rachel Smith
Feature Story, honorable mention, Sara Sproull
Personality Profile, second place, Erica Clark
Personality Profile, third place, Cory Collins
Review, second place, Mindy Borie
Review, honorable mention, Kaitlin Haggard
Continuing News, second place, Cory Collins
News Story, second place, Jake Hawkins
News Story, third place, Rachel Smith
Sports Photo, second place, Matthew Durr
Sports Feature, first place, Cory Collins
Sports Feature, third place, Cory Collins
Sports Game Story, third place, Cory Collins
Sports News Story, first place, Cory Collins
Sports News Story, third place, Cory Collins
Comic Strip, first place, Andrew Williams
Comic Strip, third place, Tyler Dunham
Editorial Writing, first place, Jake Hawkins and board
Editorial Writing, second place, Jake Hawkins and board
Editorial Writing, third place, board
Opinion Page, first place, Rachel Smith