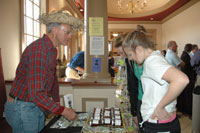 LEXINGTON, Ky.—The Lexington community is invited to stop by Transylvania University's second annual Local Food Fair Friday, Feb. 15, from 10 a.m.-2 p.m. in the Clive M. Beck Athletic Center, at the corner of Broadway and Fourth Street.
Farmers from Elmwood Stock, Triple J, Gaffney, Stone Hedge, Acres of Harvest, McMaine's Riverhaven and Greeley Farms will be available to talk about how their Community Supported Agriculture (CSA) programs work. Visitors will learn how they can buy seasonal produce directly from local farmers. The farmers will also have items for sale.
CSA customers pledge to support a farm by purchasing a "share" of harvested products, usually early in the year. Then, throughout the growing season, customers receive a box or basket of seasonal produce or other products from the farm. CSA programs typically offer produce, but they may occasionally offer eggs, meat or dairy products.
Marksbury Farm, Seedleaf Farm, the Good Foods Co-op, the Bluegrass Farmer's Market, the Lexington Farmer's Market and Food Chain will also be present at the event, which is sponsored by Transylvania's Office of Sustainability, is free and open to the public. Lunch will be available for purchase. Free parking is available.
For more information, contact the public relations office at (859) 233-8120 or Angela Dossett at (859) 608-9218.