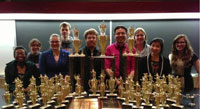 LEXINGTON, Ky.— The Transylvania speech and debate team excelled at the 2013 Kentucky Forensic Association State Tournament on Saturday, winning small school debate sweepstakes, and small school individual events sweepstakes as well as being named second overall grand champion. Coach Gary Deaton was also recognized, winning the co-coach of the year award.
Transylvania University hosted the tournament, which brought schools all across the state to compete in speech and debate events.
In addition to several other awards, Bryan Dickman, of Williamsburg, Ky., also received the Harlan Hamm Award for Speech and Debate Excellence, which honors a student who displays service to the activity, service to the university and community, and competitive excellence.
Transylvania debate teams accounted for four out of the eight debate quarter-finalists, three out of the four semi-finalists, and won both first (Taylor Deaton, of Richmond, Ky., and Rachel Smith, of Mayfield, Ky.) and second (Dickman and Ian Smith, of Lawrenceburg, Ky.) place debate team. Many other team members went on to win individual awards as well, including four first place individual awards; four second place individual awards; and five third place individual awards. Ian Smith, Taylor Deaton and Angelica Miller, of Bristol, Va., also received quadrathon awards, which measures personal success in four or more events.
Transylvania University's debate team coaching staff includes Gary Deaton and alums Leigh Ann Jordan, associate director of forensics; Clint Jones, assistant director of forensics; Raven Mineo, director of debate; and Brian Powell, assistant director of debate. 
 
A full list of results are below:
Ninth Place Novice Debate Speaker – Angelica Miller
Fourth Place Novice Debate Speaker – Alicia Reinersman
Third Place Novice Debate Speaker – Chase Bullock
First Place Novice Debate Speaker – Rachel Smith
Eighth Place Open Debate Speaker – Bryan Dickman
Sixth Place Open Debate Speaker – Rebecca Radcliffe
Second Place Open Debate Speaker – Ian Smith
First Place Open Debate Speaker – Taylor Brian Deaton
Quarterfinalist Award for Debate – Marina Morgan and Chase Bullock
Semifinalist Award for Debate – Rebecca Radcliffe and Alicia Reinersman
Second Place Debate Team – Bryan Dickman and Ian Smith
First Place Debate Team – Taylor Deaton and Rachel Smith
Third Place Communications Analysis – Taylor Deaton
Top Novice Duo – Rachael Jones and Angelica Miller
Fourth Place Duo – Taylor Deaton and Angelica Miller
Third Place Duo – Rachael Jones and Angelica Miller
Fourth Place Dramatic Interpretation – Angelica Miller
Sixth Place Editorial Impromptu – Bryan Dickman
Fifth Place Editorial Impromptu – Rachel Smith
Third Place Editorial Impromptu – Taylor Deaton
First Place Editorial Impromptu – Ian Smith
Fifth Place Extemporaneous Speaking – Ian Smith
Fourth Place Impromptu Speaking – Bryan Dickman
Second Place Impromptu Speaking – Taylor Deaton
First Place Impromptu Speaking – Ian Smith
Sixth Place Programmed Oral Interpretation – Angelica Miller
Fifth Place Programmed Oral Interpretation – Rachael Jones
Fourth Place Programmed Oral Interpretation – Alicia Reinersman
Sixth Place Prose – Ian Smith
Top Novice Radio Broadcasting – Rachel Smith
Third Place Radio Broadcasting – Ian Smith
Second Place Radio Broadcasting – Taylor Deaton
Sixth Place Quadrathon Award – Angelica Miller
Third Place Quadrathon Award – Taylor Deaton
Second Place Quadrathon Award – Ian Smith
First Place Small School Debate Sweepstakes – Transylvania Team
First Place Small School Individual Events Sweepstakes – Transylvania Team
Second Place Overall Grand Champion – Transylvania Team
Harlan Hamm Award for Speech and Debate Excellence -Bryan Dickman
Co-Coach of the Year – Gary Deaton