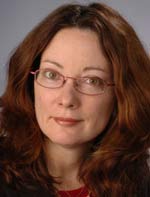 LEXINGTON, Ky.—Linda Martín Alcoff, president of the American Philosophical Association, professor and author, will deliver the 2013 Rick O'Neil lecture, "Social Identities and the Question of Realism: Against Post-Ethnic Utopias," at Transylvania University Tuesday, Feb. 19, at 7 p.m. in Carrick Theater in the Mitchell Fine Arts Center. The talk is free and open to the public.
Martín Alcoff is professor of philosophy at Hunter College and the CUNY Graduate Center. She has degrees from Georgia State University and Brown University and has held positions at Syracuse University, SUNY Stony Brook and Kalamazoo College and visiting appointments at Cornell, Brown and the University of Aarhus.
Her writings have focused on social identity and race, epistemology and politics, sexual violence, Foucault, and Latino issues in philosophy. She has written two books, "Visible Identities: Race, Gender and the Self," and "Real Knowing: New Versions of the Coherence Theory." She is currently at work on two new books: a book on sexual violence and an account of future of white identity. Also forthcoming is an anthology co-edited with Jack Caputo on the politics of love. She is a co-editor of Hypatia: A Journal of Feminist Philosophy.
The lecture is sponsored by Transylvania's philosophy program and Sophia, the university's philosophy society, in honor of the late Transylvania philosophy professor Rick O'Neil.
For more information, contact the public relations office at (859) 233-8120.