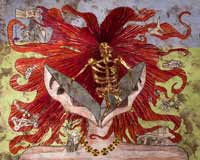 LEXINGTON, Ky.—Opening Monday, Feb. 25, and running through Friday, March 22, at Transylvania University's Morlan Gallery is "Divine Hybrids: Syncretic Visions of Sexuality and the Sacred."
The four-week exhibition features contemporary mixed-media art that contemplates life within a sexualized realm of the sacred, where figuration emerges in mixed imagery, taking after syncretic religions and mythologies born from historically decisive multicultural encounters.
From emblematic figures of mestizaje, the idea of mixing races in Latin American cultures, to deities that embody combinations of Haitian voodoo with Hindu, Mayan, Catholic and other traditions, "Divine Hybrids" features the works of Mexican artist Claudia Dominguez, now based in North Carolina; Columbian artist Gabriela Jiménez; Jamaican-born artist Ebony G. Patterson and Lexington artists Diane Kahlo and Robert Morgan.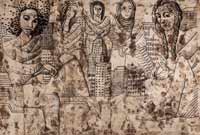 Fernanda Negrete is the guest curator. Born in Mexico City, Negrete works on aesthetics and contemporary literature and art. She curated a series of exhibitions with artists from Colombia, Haiti, Mexico and the United States as the 2010-11 Art Fellow at the Big Red Barn Graduate and Professional Student Center at Cornell University, where she received her Ph.D. in romance studies in January 2012. Currently, she is a visiting assistant professor of French at Miami University of Ohio.
Special events, all free and open to the public:
Opening reception
Thursday, Feb. 28
5-8 p.m.
Morlan Gallery
Art Talk: The Curator's Perspective
Monday, March 4
4:30-5:30 p.m.
Morlan Gallery
Fernanda Negrete will discuss the themes of "Divine Hybirds" and how the selected artworks address those ideas and constructs. This art talk is presented by the Morlan Gallery and Transylvania's Office of Diversity and Inclusion.
Art Talk: Women Mending Women
Tuesday, March 19
12:30-1:15 p.m.
Morlan Gallery
Artist Claudia Dominguez presents this art talk, which will explore the work she has displayed in "Divine Hybrids," which examines her search for female support, how she came to terms with her relationship with her mother and how she discovered a history that supported her as a Mexican woman. Her work connects her Mexican experience in the United States with that of indigenous embroidery in Mexico, exploring fiber art in the United States and Feminist Theory.
The Morlan Gallery is open weekdays, noon-5 p.m. and by special appointment. Please note, this exhibition is open the week of March 11 by appointment only due to Transylvania's spring break. For an appointment, call Gallery Director Andrea Fisher at (859) 233-8142, 24 hours prior to viewing.