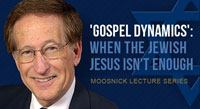 LEXINGTON, Ky.—Rabbi Michael Cook, the Sol and Arlene Bronstein Professor of Judeo-Christian Studies at Hebrew Union College-Jewish Institute of Religion, Cincinnati campus, will speak at Transylvania University on Sunday, Feb. 17. His talk, "'Gospel Dynamics': When the Jewish Jesus Isn't Enough," is at 7 p.m. in Carrick Theater in the Mitchell Fine Arts Center and is free and open to the public.
Cook is possibly the only rabbi in North America with a full-professorial chair in New Testament. In 2003, he was one of seven scholars internationally selected by the Catholic Bishops to assess the accuracy of the advance script of Mel Gibson's "Passion of the Christ."
His best-selling book, "Modern Jews Engage the New Testament: Enhancing Jewish Well-Being in a Christian Environment," is in its third printing.
He has also written about the evolving Jewish views of Jesus and Paul, studies on the various Gospels and on a wide spectrum of specialized subjects including the trial of Jesus, images of Judaism in Christian Art, the history of anti-Semitism, and the role of Passover in modern Christianity.
He serves on many advisory boards in Jewish-Christian relations and has received an Excellence in Teaching Award, sponsored by the Greater Cincinnati Consortium of Colleges and Universities.
He travels widely, speaking to Jewish and Christian audiences, including congregations as well as university academicians, clergy and seminarians throughout North America and Europe.
Cook's lecture is part of the Franklin B. Moosnick Lectureship in Judaic Studies, sponsored by the Moosnick Endowment, at Transylvania University.