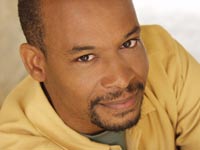 LEXINGTON, Ky.—Wear your favorite baseball jersey and join the Transylvania University community for a night of concession refreshments and baseball history as filmmaker Byron Motley discusses his documentary, "The Negro Baseball League: An American Legacy," which is scheduled to air on PBS in February 2014. The presentation, Tuesday, Feb. 26, at 7 p.m., in the William T. Young Campus Center is free and open to the public. It offers an insightful, educational and entertaining look at the histories and memories of the Negro Leagues.
Motley is a singer, songwriter, filmmaker, lecturer, author and photographer. In 2007, he co-authored his father's memoir, "Ruling Over Monarchs, Giants, and Stars: Umpiring in the Negro Leagues and Beyond." His father, Bob Motley, is the only living umpire from the Negro Leagues.
The talk is sponsored by the Transylvania University Athletics Department, the Creative Intelligence Lecture Series, and the offices of diversity and inclusion and student life.
For more information, contact the public relations office at (859) 233-8120.